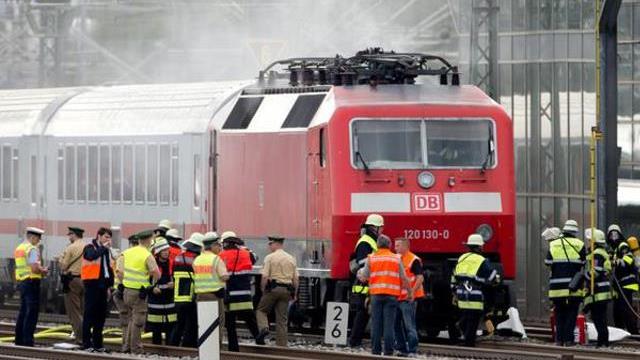 MUNICH -- (MunichNOW News) -- Monday mornings are never easy for anyone, and this one was particularly hard for the Deutsche Bahn. After having done massive construction work on the Stammstrecke (main or central S-Bahn line) between Laim and Stachus throughout the whole weekend, the new week started with a train catching fire at Munich's Hauptbahnhof (central station).
Around seven in the morning an intercity train to Berlin caught fire on its way into the central station and caused the collapse of Munich's train system. The fire was caused by a transformer setting in the front part of the train, and while there were no open flames there was a considerable amount of smoke, according to fire department reports.
Even though the fire was immediately spotted and put out within 30 minutes by the fire department and nobody was harmed, Munich's commuters could feel the impact of the incident throughout the whole day.
All trains and S-Bahns were prevented from entering or leaving Munich and most commuters and passengers of trains going to other cities were stuck at the train station. The stretch to the central station involved in the incident was blocked and no trains or S-Bahn could use it. An overhead line had to be turned off in order to limit danger for the fire department while fighting the fire. Additionally, around 10 am the S3 to Giesing had to be closed down due to a defect on the tracks of, causing even more delays and chaos for commuters.
After 11.30 am things gradually started moving again with outbound passengers were redirected through Pasing and on to Stuttgart to connect with their final destinations.
The Hauptbahnhof returned to a close to normal state as the fire trucks left and the damaged train got towed away.
At this point commuters should have been able to use the trams and busses but the overcrowding from the thousands of riders caused even more confusion and delays.
Furthermore there were even more people depending on the S-Bahn than usual as most schools had a field trip day and were on their way into Munich. They too got stuck in Pasing just like everyone else.
As the S-Bahns' slowly returned to their normal schedule, wait times slowly decreased throughout the afternoon and early evening allowing commuters to get home more or less on time.
According to the Münchner Merkur Gerhard Weber, the engineer of the S8 going into Munich, kept his passengers smiling with amusing announcements over the speaker. After 30 years he says he is has seen it all and does his best to keep his passengers smiling and happy.
For more personal accounts (in German) click here


BLOG COMMENTS POWERED BY DISQUS
---