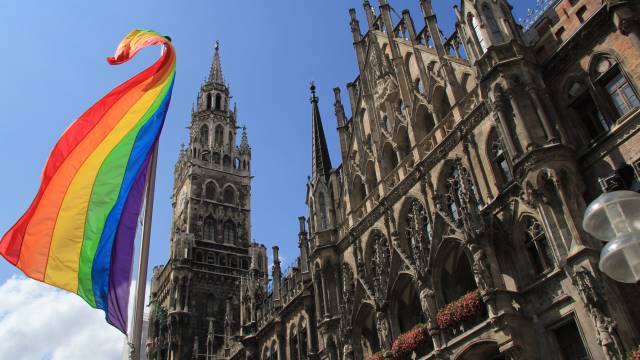 The consulate's participation is particularly apt this year given the U.S. Supreme Court's historic decision on June 26, which recognized gays and lesbians' constitutional right to marry. The consulate warmly invites Americans living in Bavaria to march with the consulate behind its banner.
The consulate's place in the parade is #39. Here is a link to the parade route: http://www.csd-munich.de/web/feiern.html?aid=2#politparade. Americans are welcome to join for all or part.

Where to meet: Consulate staff will gather at Sankt-Jakobs-Platz 16 (between the Jewish Museum and the Synagogue) at 11:15 a.m. Americans joining us must be there no later than 11:30 a.m. We will then move as a group to Oberanger street, about a block away, so we can be in place by 11:45 a.m. Look for the consulate's banner, a rainbow map of the United States, like the one below. (Can't see the image? Click here: https://goo.gl/bzMDyO)
What to bring: Sunscreen, water, backpack, and any American or rainbow pride flags or festive pro-equality signs you have.

What to wear: If you have clothing in red, white, and blue, or with the American flag, by all means wear it.

We hope you'll join us in what we hope will become a tradition of celebration. Please RSVP to This email address is being protected from spambots. You need JavaScript enabled to view it. with your name, email address, and any questions you may have.
Schedule of Events
July 11, 2015
12 am: Start of the Pride Parade; Assembly point Marienplatz (station on the U-Bahn and S-Bahn systems)
Parade Route
12 am - 12 pm: CSD street festival at the Marienplatz and the Rindermarkt, with a stage for the show and cultural program, information stands, catering stands, etc.
Marienplatz (Show Stage)
Rindermarkt (DJ-Area)
Marienhof (Rainbow Families)
Marienhof (Keith-Haring-Art-Event)
10 pm - 05 am: CSD Clubbing in the City Hall, the biggest and most sought after gay party in town. Don't forget to make sure of your tickets in advance! Tickets (25 €uro) will be available on the day of the event (July 11) from 11a.m. at the CSD-Infopoint on the Marienplatz behind the show stage. more...
10 pm: Bubble Duck CSD Party, in the renowned Munich "Kunst Halle" more...
10 pm: CSD-Party XXL, 2 Partys 2 Clubs 1 Admission more ...
10 pm: SHE-LA CSD Special, lesbian & friends party more...
July 12, 2015
11 am - 10 pm: CSD street festival at the Marienplatz and the Rindermarkt, with a stage for the show and cultural program, information stands, catering stands, etc.
Marienplatz (Show Stage)
Rindermarkt (DJ-Area)
BLOG COMMENTS POWERED BY DISQUS
---