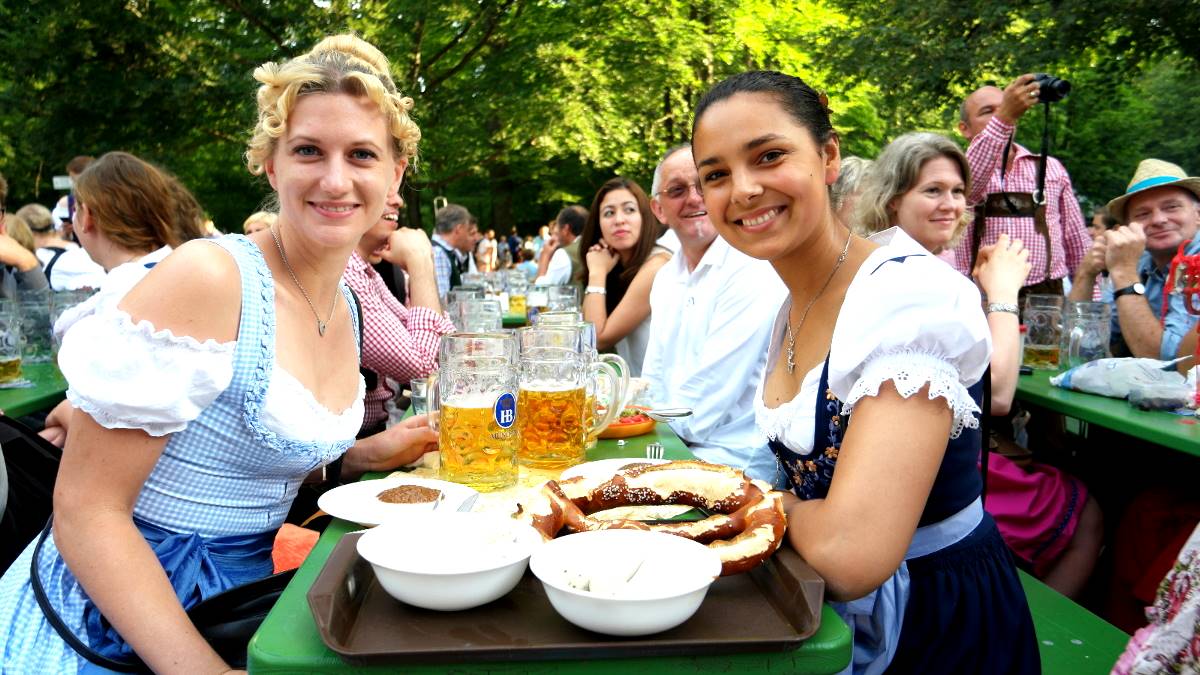 MUNICH -- (MunichNOW Life) -- Even though there were a few raindrops throughout the day, more than 12,000 people showed up to the annual Kocherlball, Munich´s biggest dance festival, last Sunday at the Chinese Tower.
The Kocherlball goes back to the 1900s when Munich's servants used to gather in the early mornings before work to dance at the foot of the Chinese Tower. It was seen as "indecent" by the city and banned in 1904. In order to celebrate the 200th anniversary of the English Garden, the "Kocherlball" was brought back to life in 1989 and has been taking place every third Sunday in July since then. And of course it starts, as tradition demands it, at 6 a.m.
But this early hour didn´t keep Munich's population in bed. Quite the opposite, actually: Almost 12,000 people showed up to dance last Sunday. Some of them even brought candles to light up the English Garden, since it was still dark that early in the morning. And of course, tradition didn't stop there. Almost everybody showed up in the traditionally Bavarian lederhosen or dirndl. You could even spot someone every now and then in an old servant's' outfit from the 1900s.
The highlight this year was the "Munich Francaise," instructed by Katharina Mayer and Magnus Kaindl, two very successful German dancers, to the sounds of Johann Strauss's son's "Fledermaus-Quadrille." But this wasn't the only dance taught that day; Katharina Mayer and Magnus Kaindl helped not-so-experienced visitors master the most important Bavarian dances as the day progressed.
Even Mayor Dieter Reiter and his wife Petra Reiter joined this year's ball and waltzed through the English Garden with the rest of Munich.
And "the rest of Munich" is a growing number. Visitors are very sure that more people attended this year, compared to last, even though the official numbers have stayed the same.
But what can be said for sure is that by now the Kocherlball has reached other parts of Germany. Not only are there many reenactments of this huge event, but there are also many people from outside Bavaria who come in order to be a part of Munich's biggest dance festival of the year.
With a huge success like this, the expectations are even higher and people are already excited for what's to come next year.




BLOG COMMENTS POWERED BY DISQUS
---