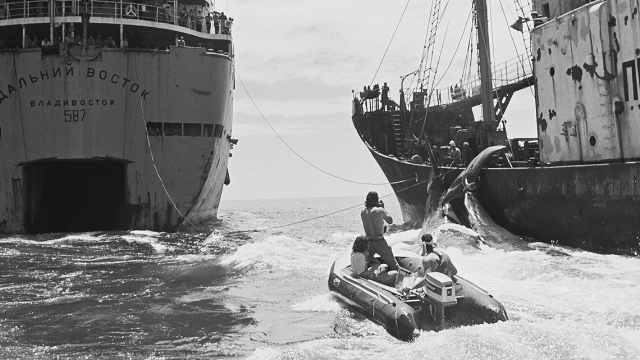 FILMFEST MÜNCHEN PREVIEW: "How To Change the World" - Screenings: Tuesday June 30 at 5:30 pm (City I); Wednesday July 1 at 3 pm (City 1)
In 1971, a group of friends sail a boat into a nuclear test zone, and their protest captures the world's imagination. "How to Change the World" is a hippie heist movie, the story of the pioneers who founded Greenpeace and defined the modern green movement.
Using rare archival footage that brings their extraordinary world to life, the filmmakers take us back to the early days of environmental activism.
"At a time when we need to engage with problems on a global scale, hopefully this story of one small group of people can get us thinking not only about how we act individually but in partnership with each other," says director Jerry Rothwell in Filmmaker Magazine.
He goes on to say, "Fear is a constant companion when filmmaking, in my experience. I've learned to welcome it, as a sign that I'm pushing my own boundaries a bit, not retreating into the easiest option. The absence of that nagging background anxiety is a sign I may have settled for less than I should have."
There are only two screenings of this documentary at this years Filmfest, so if you want to see it, get your tickets soon. Additionally, director Jerry Rothwell will be available after each screening to answer questions about the early days of Greenpeace and the making of the film.
Screenings: Tuesday June 30 at 5:30 pm (City I); Wednesday July 1 at 3 pm (City 1)
SCREENPLAY: Jerry Rothwell
DIRECTOR OF PHOTOGRAPHY: Benjamin Lichty
FILM EDITOR: James Scott
COMPOSER: Lesley Barber
PRODUCTION DESIGNER: Andrew Kinsella
SOUND: Vincent Scott
PRODUCER: Al Morrow, Bous De Jong
PRODUCTION COMPANY: Met Film Production
CO-PRODUCTION COMPANY: Insight Productions, Daniel Film
WORLD SALES: Dogwoof
DISTRIBUTOR: NFP marketing & distribution GmbH
DIRECTOR: Jerry Rothwell
Official Trailer
The trailer for How To Change The World - Jerry Rothwell's award-winning feature documentary about the founders of Greenpeace.
www.howtochangetheworldmovie.com
@HowToChangefilm
www.facebook.com/howtochangetheworldfilm
---