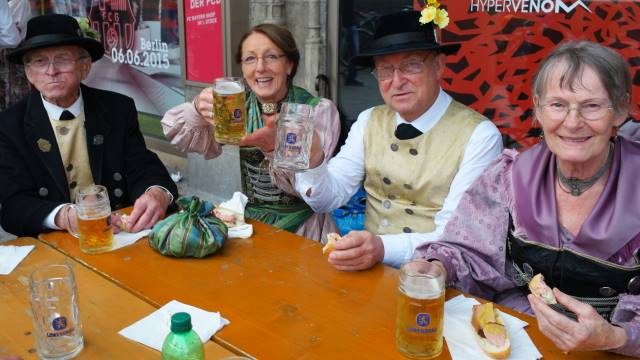 MUNICH (MunichNOW Life) -- The 857th Munich birthday party was opened on Saturday morning by Mayor Dieter Reiter with wießwurst, weißbier, and brass bands to a packed Marienplatz. The weather co-operated with scattered clouds and a blue Bavarian sky for most of the day. The Mayor even took a turn on the guitar with his band in a musical performance following the opening ceremonies.

Marienplatz is turned into a huge beer garden!
Since 1988, Munich has commemorated the anniversary of its "founding" in an annual birthday party that takes place every June. What exactly happened 857 years ago on June 14th? The first mention of "munichen" was made in an official document signed by Duke Henry the Lion (Herzog Heinrich der Löwe) and the Bishop of Freising.
According to the local Department of Labor and Economy, as many as 450,000 people attended the weekend's festivities. No doubt some revelers were as excited about the shops that were allowed to stay open on a Sunday, which is normally strictly forbidden.

Marienplatz is turned into a huge beer garden!
There were multiple stages set up from the Rindermarkt up to Odeonsplatz, which featured both traditional Bavarian melodies as well as a variety of international styles.
Not even a massive downpour on Sunday afternoon could keep the locals away. Some were fortunate enough to get under cover while the storm rolled by, but there were a handful of celebrants who danced on in the pouring rain.

Just off Marienplatz and at Rindermarkt, local Bavarian dance clubs not only performed all day, but taught the traditional steps to many delighted novice dancers with varying degrees of success. It was two days of Munich and Bavaria at their very best!

Bavarian Dance Classes!

Traditional Music in Front of the Town Hall



Marienplatz: Weekend Beer Garden!
"Munich Loves You"
"Munich Mag Dich"
Ken Macbeth Knowles and Jeffrey Ely contributed to this story
Photos: munichFOTO / Jeffrey Ely
---