GRAFING (MunichNOW Life) -- The untimely death of musician, singer, producer, actor and artist David Bowie was a shock to everyone. His parting gift was a mysterious new studio album; his 27th, "Blackstar", which some critics, even before his death cited as the best he's ever made - and two haunting videos leaving us with everlasting images of a man who knew his end was near.
Someone said that, 'Bowie showed us all how to make the final exit'.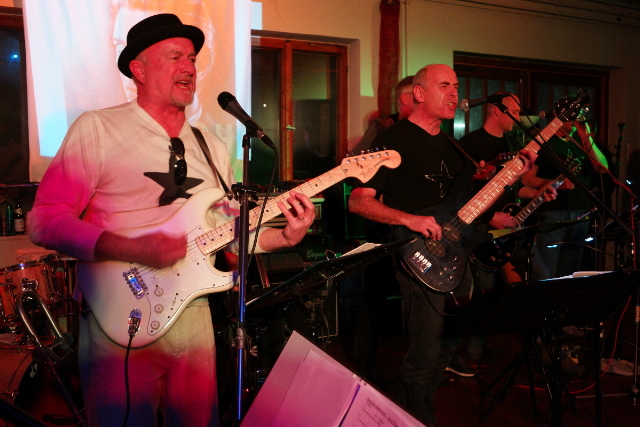 Henry Schiller and Michael Evola -- munichFOTONot 12 hours after the sad news, Michael Evola, singer and bassist (and major Bowie fan) of the Munich area band Nick's Noise had the idea to organize a tribute concert as soon as possible. His fellow band mates, Christoph Baumhoer (guitars, vocals), Joel Flammann (guitars, vocals), Andreas Dürrschmidt (drums) and Detlef Noack (percussion), were all happy to join in on the project. Local Grafing matador 'Götz Live' Hünnemeier (vocals, guitar) was soon involved and was able to find an appropriate venue, Casa Creativa in Grafing, for Saturday, Jan. 23rd for the occasion.
A few phone calls later and members of the Strange Chemistry project, Henry Schiller (vocals, guitars, piano), Bonifaz Prexl (vocals, guitars, keyboards, drums) and Matt Grissini (bass, guitars, vocals) were in the Bowie boat. And last but not least Jakub Dwornicki, exceptional guitarist, singer, and front man of the JD Power Trio rounded out the motley crew.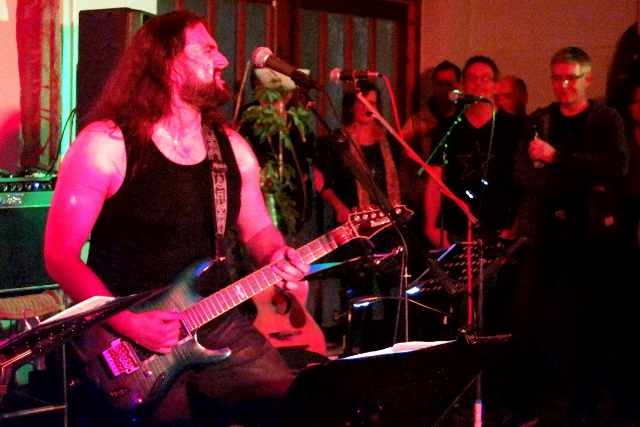 JD Dwornicki ripped on lead guitar -- munichFOTO
The Challenge: Ten musicians need to learn and perform around 30 Bowie songs in one week. Evola laid down the foundation of the set-list, and then everyone threw in their favorites including a number of obscure tracks throughout Bowie's career. Organizing rehearsals was even more difficult and not once were all ten present at one session. Nevertheless, the songs began to take shape and show time was near. This is what a set set-list looks like when you have to document 'who does what when' for ten musicians.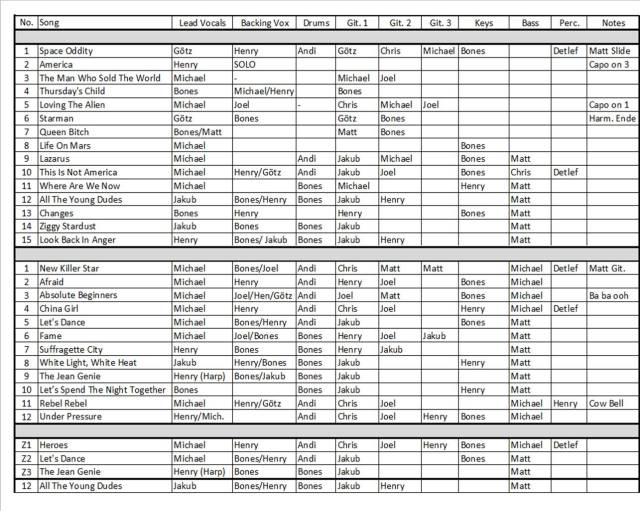 The career-spanning setlist Show Time: Several newspapers, social media, and even a local radio station did some promotion for the concert, but it was still uncertain how many people would actually show up. Admission was free and drinks and munchies were available. Attendees were requested to voluntarily pay for their consumptions and make donations which would go to a cancer related charity. The venue could hold an audience of about 100 comfortably and by the time the tribute finished three hours later, the club was wall-to-wall dancers and cheering fans hollering for more. Michael Evola's seed of an idea had turned into a smashing success!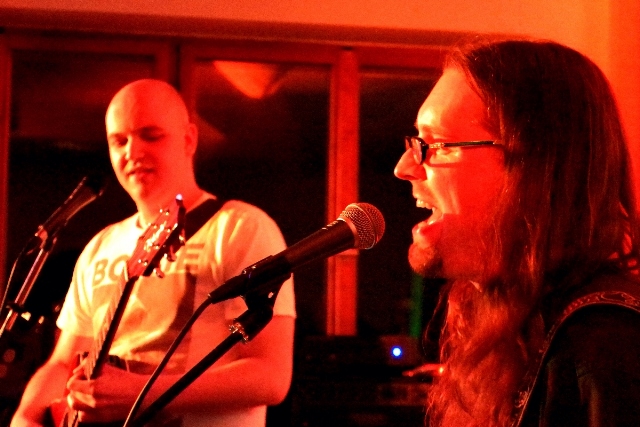 Matt Grissini and Bones Prexl -- munichFOTO
The evening began in an unplugged, acoustic mood and slowly ascended into the rock classics for which Bowie is most famous. By the time the band played 'Let's Dance' and 'Fame', the entire audience was gyrating on the dance floor. In true rock style, songs like 'Suffragette City' and 'The Jean Genie' brought the police knocking at the door with the neighbors complaining about the volume. Managing to squeeze 'Rebel Rebel' and 'Under Pressure' into the 11:00 PM curfew, the band finished with a completely unplugged encore of the classic 'Heroes'.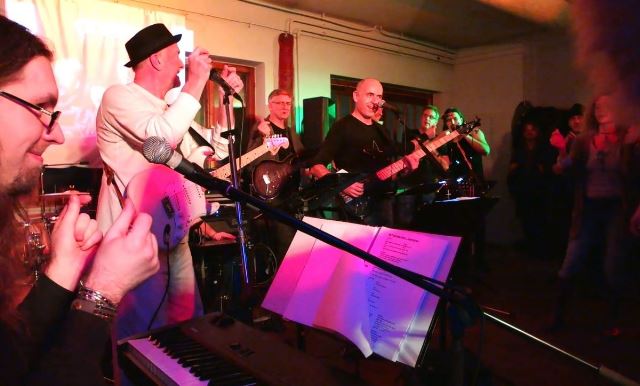 Finger snaps at the end of "Under Pressure" -- munichFOTO
The audience applause - which lasted many minutes - was much louder than the last song.
David would have been proud.

Facebook Links:
David Bowie
Nick's Noise
JD Power Trio
Strange Chemistry
David Bowie Tribute Photo Gallery
BLOG COMMENTS POWERED BY DISQUS
---
Sleigh Riding Around Munich and Bavaria

Next >