The Twelve Days of Christmas, Bavarian-style (12)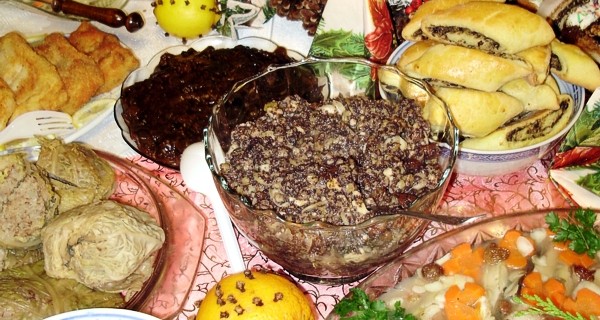 On the twelfth day of Christmas my Bavarian friend gave to me: twelve meatless dishes.
On this final day of the 12 days of Christmas, I thought it might be important to look at a new trend that is happening in Bavaria.
According to the Kreisverwaltungsreferat (KVR), Munich's county authorities, about 25,000 people who live in Munich County speak Russian. Also, in 2013, for the first time ever, more Russian tourists visited Munich than tourists from North America. The Russians dropped FOUR times the money. Local real estate agents have told me that most of the apartments bought in Bavaria are from Russians - with cash.
Munich would like to give them a great big 'Herzlich Willkommen'.
Many Russian speakers came to Munich as nannies, ended up students or wives, and have stayed. Others earned their millions years ago, and have come out of the cold.
Russians/Ukrainians follow the Orthodox Church which means they celebrate Christmas two weeks later, and their traditions are a bit more defined.
Since the date always falls on 'Three Kings Day' (January 6th), already a bank holiday in Germany, Orthodox adherents are able to celebrate their own holiday without worrying about  going to work or school.
Straw is placed under the table to symbolize the manger of Jesus' birth, and the animals are called to feast on the night before Christmas. The feast itself is meatless, with 12 different dishes representing the 12 Apostles. Three loaves of bread are stacked at the end of the table, representing the Father, the Son, and the Holy Ghost. The single most important dish is Kutia, made from poppy seeds, served in a large common bowl. Each person uses their own spoon but the Kutia remains only in the bowl.
The meals are usually without alcohol (plenty of time to catch up the next day), and often an extra seat is at the table for any wanderer.

Related Stories: