Big Bad Bayern Munich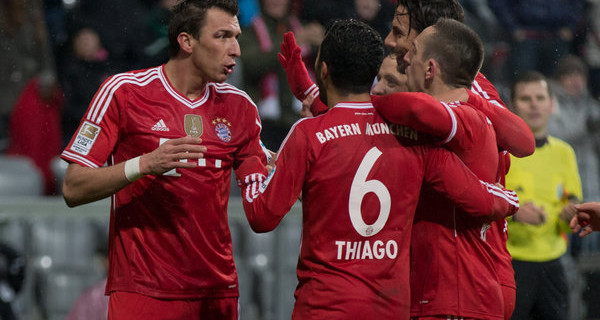 Jonathan Allott muses on Bayern's season so far, the differences between this year and last, and the reason why they are so hard to beat.
The second half of the Bundesliga season has started and Bayern Munich are showing no sign of relenting. 19 league games, 17 wins and two draws, a perfect ten from ten at home and an overall goal difference of +42. It makes for fairly formidable reading, especially considering breaking records has become a weekly routine. In the 5-0 win against Frankfurt on Sunday night, Spanish midfielder Thiago set a new league record for the most number of touches in a game (185). This routine started last season, in the Bundesliga's 50th year, when the team ran away with the league. Bayern became the earliest title-winners (28 games), won the most points (91) and won by the largest winning margin (25 points), not to mention the fact they became the first German team to win the treble.
Having won every competition last season, how on earth do you improve perfection? The allure of Guardiola has proved strong enough to cause two of Dortmund's star players, Mario Götze and Robert Lewandowski, to defect (the latter will arrive this summer), and Guardiola even returned to Barcelona's talent pool to bring in Thiago Alcantara to further strengthen an already bulging midfield. It's not just Guardiola's transfer policy that has kept the success ticking over, but also his well-documented tactics. The most significant of which is Phillip Lahm. A world renowned and respected full back who has been converted into a versatile midfielder. Further tactical changes include using only one defensive midfielder instead of Heynckes' preferred two, and often playing without a recognised striker, using a 'floating nine' instead.  Perhaps surprisingly, Mario Mandzukic, having seen off Mario Gomez and established himself as Bayern's top striker, continues to be included. Astonishingly, the biggest winner thus far seems to be Rafinha. The right back was used sparingly by Heynckes but has become first choice since Lahm's new role.
Probably the biggest problem Bayern have in terms of personnel is the lack of defensive cover, although both Lahm and Javier Martinez (when fit) can easily drop deeper. The midfield in front of Lahm and behind Mandzukic offers Guardiola the chance of rotation considering Guardiola's plethora of options. Bastian Schweinsteiger, Thiago, Martinez and Toni Kroos compete alongside the more attack-minded Mario Götze, Arjen Robben, Franck Ribery, Thomas Müller and Xherdan Shaqiri. Bayern are stronger here than they were last season and the sheer variety of options means the team's default is unpredictability. The tactical rigidity of Heynckes' 4-2-3-1 has been replaced by a more varied and flexible system. As odd as it sounds, the variety, coupled with the acquisition of even higher quality players, leaves the German, European and World Champions in a much stronger position than last year.
With the Bundesliga more-or-less already won, the challenge is to become the first ever side to win back-to-back Champions League titles. And quite frankly, there is no better side in Europe. Bayern will not fear Arsenal in the knockout stages, despite last year's second leg defeat to Arsène Wenger's team. Any team they come up against will not only have the headache of working out how to stop Bayern, but also who exactly to stop. With so many match-winners in the squad and Guardiola - European champion as both player and coach - in charge, it is difficult to imagine any team conquering Bayern. The pain of 2012's final defeat dahoam (at home in Munich) against Chelsea seems a distant memory. Make no mistake this is a team still enjoying its upward curve.

Related Stories: