FEATURE: Records Continue to Fall for Unstoppable Bayern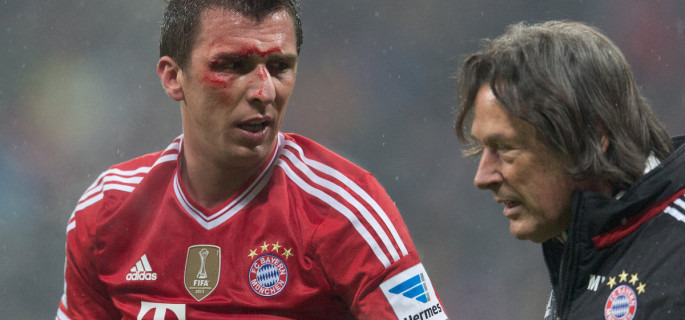 Berlin (dpa/MunichNOW News) - Bayern Munich crushed Eintracht Frankfurt 5-0 Sunday as records continue to fall for the German champions-elect.
Going into the match Bayern were already undefeated for a record 43 Bundesliga games and making it 44 was little more than a formality.
Visiting coach Armin Veh left two regular starters out of his team for fear a yellow card would rule them out of the crucial relegation battle with Eintracht Braunschweig this weekend.
This was an attitude borne of negativity and realism in equal measure. Few onlookers could argue the inclusion of Sebastian Rode and Carlos Zambrano, the protected players, would have done much to halt the Bayern tide.
"I've never seen such a good Bayern team. Every player is worth every cent he earns," Veh said after the game.
"This is a top-class team, simply sensational. Even with our so-called first choice team we wouldn't have stood a chance," he added.
The next landmark claimed by Bayern is scoring in 56 consecutive top flight league matches, beating the record of 55 established by Arsenal in 2001.
Individually against Frankfurt, Thiago set a new record for the number of times being in possession of the ball. The German Football League counted 177 touches though Kicker magazine and Sky believe his final tally to have been 185.
Bayern coach Pep Guardiola singled out Thiago for praise but delighted was also delighted with what was an exceptional team performance.
"That was our best home game so far. I'm very pleased indeed. Congratulations to my players, they played very, very well," he said.
"I'm delighted for the fans. In the first half of the season I was often afraid it was too boring for all the people at the stadium."
Last season Bayern set a record total of 91 points in winning the Bundesliga and with 53 from 19 games this campaign, they are on track to beat this total again.
The biggest championship winning margin of 25 points, also set by Bayern in 2013, could come under threat as well but Bayer Leverkusen and Borussia Dortmund returning to winning ways last weekend shows this is not certain.
Bayern's scoring record of 101 goals in season 1971/72 may also remain just out of reach for the present day team.
With the Bundesliga championship all but secure, the goal of retaining the German Cup and Champions League comes into sharper focus.
It is hard to see struggling SV Hamburg offering much resistance in the German Cup quarter-final February 12, but Arsenal in the Champions League round of 16 (February 19 and March 11) will likely prove a tougher prospect.
No team has retained the modern day Champions League but for this Bayern Munich side, it is just one more record which is in their sights.

Related Stories: