Lahm: Hungry Bayern Want More Trophies in 2014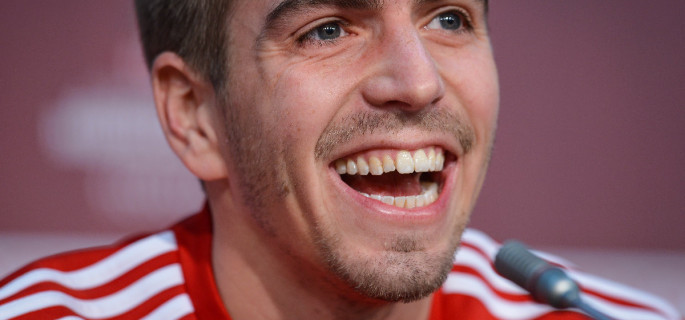 Munich (dpa) - Bayern Munich remain hungry for more silverware in 2014 after taking a club record five titles including the Champions League and Club World Cup last year, captain Philipp Lahm said.
Lahm said in an interview with the Bayern website published Wednesday that the team still has plenty of potential.
"We want to reach the finals again, we want trophies again! This is going to be a huge challenge. Of course it is almost impossible to repeat all this - especially in the following year. But we are aiming for it," Lahm said.
Bayern won the Bundesliga, German cup, Champions League, European super cup and Club World Cup in 2013.
Now they are in the Champions League last 16 against Arsenal as they could become the first team to defend the title in the showcase event in its current form. They hold a seven-point Bundesliga lead with a game in hand and are in the German cup quarter-finals.
Munich lost only three competitive games in 2013 and are unbeaten in the Bundesliga since losing to Bayer Leverkusen October 2012. They were the first to go without a league defeat in a calendar year but Lahm said it was too early to look at an unbeaten season as well.
"It may sound like a cliche but we will continue taking it one game at a time. All these records are nice and we gladly snatch them up. But it is not our focus. Every team loses one day. We will try to delay that as long as possible," Lahm said.
Pep Guardiola's Munich fly to Qatar on Monday for a training camp to prepare for the second half of the season which they start at third-placed Borussia Mönchengladbach on January 24.
"We are on a good path but it can be even better. We saw in the games at Manchester City and Leverkusen what is possible. We must perform like this more often," Lahm said, referring to two games where Munich completely dominated.
Bastian Schweinsteiger is set to be fit again from an ankle injury for the league restart, and Lahm expects the Germany midfielder to perform well again.
"Basti doesn't have anything to prove. I wish him that he can play football pain-free again. I am convinced that he will then give us a lot of joy," Lahm said.
By Christian Kunz
Related Stories: