Lovell's Lowdown - The Inside Story: Tinker Pep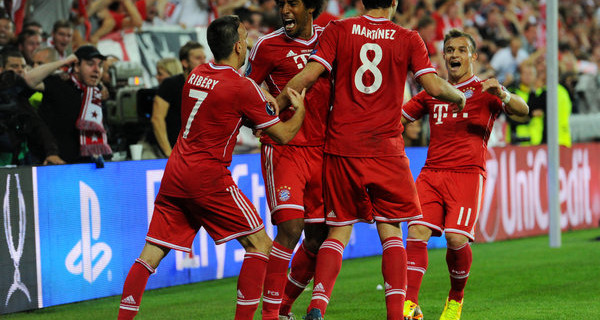 Mark Lovell gives his analysis from Prague
Bayern's new messiah Pep Guardiola was quick to pay credit to his predecessor as his charges overcame Chelsea in a pulsating encounter in Prague.
"I want to thank Jupp Heynckes for the chance to play here in this final. It's down to him that we are here," said the ex-Barcelona boss.
Guardiola made just two changes from the side that won last season's Champions League final under Heynckes, one of them enforced. Skipper Philipp Lahm stepped into midfield to replace Bastian Schweinsteiger, who missed out through injury, and Rafinha came into the side. The other change saw Tony Kroos in for Javi Martinez, who was dropped to the bench.
If we ignore the resumption of the Guardiola vs. Mourinho hostilities for a brief moment, Bayern did have unfinished business with Chelsea - that painful 2012 Champions League final defeat when Chelsea somehow prevailed on penalties in the Bavarians own backyard. Dutch winger Arjen Robben had an evening to forget for Bayern, missing a spot kick in extra time against his former club. Robben, of course made up for the disappointment of that Munich 'mare with the winner against German rivals Dortmund at Wembley in 2013.
Indeed, Bayern used the heartbreak of that defeat against Chelsea, and a near three-season long trophy drought to spur themselves on to an historic treble (Bundesliga, German Cup and Champions League) under experienced coach Heynckes.
How could the new messiah Pep Guardiola ever match Heynckes' feats? I am reminded of Brian Clough taking over the legacy of Don Revie at Leeds United in 1974. Where does Guardiola go from here?  Like Clough intended to but couldn't (he lasted 44 days) Pep seems hell-bent on doing things differently. However, Pep's grand schemes are somewhat stuttering. Above all, his defence looks as though they have only just made each other's acquaintance.
Neuer grabbed the headlines again with his trophy-clinching penalty save, but he should have saved Hazard's less than hazardous shot early into extra time.
Rafinha is one man certainly benefiting from extra minutes under Pep. But you always feel the temperamental Brazilian defender is always a (red) card candidate and potentially a liability in crunch games.
Dante looks a shadow of the consistency he impressed with last year – his defensive blackouts are a worry. Oscar should really have punished the Brazilian for his lapse immediately after Ribéry's leveller.
Boateng seems to be improving under Pep but will always be prone to errors. Alaba is simply sumptuous. It would be amiss of me to criticise such a gifted young player.
The Bayern backline were missing the steadying influence of Lahm, called on once more to help out in midfield in the absence of Schweinsteiger. Lahm simply cannot play in midfield. It's like mixing Prague beer with lemonade. Pep is in danger of watering down the Bayern product with his unnecessary tinkering. Lahm is a consummate defender and quite frankly, is there anyone better in the world today?
Bayern's captain was like a duck out of water in midfield until a change of second-half formation. He lacks the physicality for the often rough-and-tumble moments in midfield.
You could almost sense his relief on 56 minutes when he was excused from the midfield shackles of tracking Chelsea's captain Frank Lampard. Low and behold things changed for the better, both for Bayern and Lahm after the second-half introduction of Javier Martinez with 'Little Phil' slotting into his more familiar defensive position.
You will recall Martinez became Heynckes' solidifier last season. He plugged gaps, won biting tackles (normally fairly) and gave the Bavarians a reassuring shield in front of the back four. It seems Pep has been reluctant to show favours to his fellow Spaniard, reciting on-going fitness worries as a reason for leaving Martinez out of his starting line-up. The €40 million signing from Bilbao must play a pivotal role for Pep if the defensive unit are going to show fewer signs of distress. As a unit they are lacking bite, resilience and are prone to panic.
Franck Ribery deserves to have been crowned 2013 UEFA Player of the Year, seeing off players of the calibre of Cristiano Ronaldo and Mr. Messi to lift the prestigious prize. The diminutive Frenchman put in another superb, man-of-the-match performance in Prague and was keen to show his accolade was no fluke. Ribery was the one FCB player who lifted his side when they went behind to Torres' tremendous opening goal on 8 minutes.
A Ribery equaliser just after the break seemed a logical consequence after warming up with some erratic pot shots in the first half; the winger found his range with a 25 yard shot that deceived the overworked Petr Cech. One particularly scary moment for Pep would have been to see Ribery run towards him in a frenzied manner to celebrate. I trust Pep enjoyed a decent night's sleep in Prague, despite this.
Going back to his award, would he have won it if he had been sent off in the Wembley final for that stray elbow on Lewandowski? And what exactly is happening with Ribery's court case in Paris? Hush. Hush. These are the fine lines that can define a career.
Like any side would, Bayern missed local lad Schweinsteiger. The Reds are simply vulnerable when "Schweini" is absent. He is at the very top of his craft at the moment.
Toni Kroos, a brilliant attacking midfielder in his own right, looked ill at ease in the quarterback position in front of the back four, before being relieved of that burden as the Reds desperately sought an equaliser. Both Lahm and Kroos looked out of sorts until Pep's talk at half time. It seemed to give Bayern some comforting shape. The pair lacked presence in central midfield. It's not exactly that reassuring shield that Heynckes loved.
Thomas Mueller looked flat for vast periods and was excused on 73 mins for Mario Goetze. The €37 million signing from Dortmund is making his way back from injury but hardly had a kick in a sub-par performance. Indeed, he only caught the eye when he was rolling around in agony after being clattered by Ramires, a tackle which earned the Brazilian a second yellow and his marching orders with five minutes of normal time to play.
Robben had a quiet evening against his former side. He is still enjoying the bonus of that Wembley winner though, and seems to be a regular starter under Pep, which was not always the case under Jupp. Cynics would argue Pep wants to play the Dutchman as often as possible before he gets injured but his form suggests otherwise.
Mandzukic had one of his quietest ever games for Bayern. He did miss a header from point-blank range but apart from his petty squabbling with David Luiz and his regular theatricals, he was noticeable only by his absence. Indeed, the Croat was so quiet my thoughts wandered to the shunned Mario Gomez and even Claudio Pizarro who was languishing on the bench.  Then again Goetze could maybe have had more impact as that 'false 9' or whatever it is termed these days.
Formations here or there, this was another famous success for Bayern and, of course, more silverware for the bulging Bayern trophy cabinet. In a few weeks we will not care one jot how it was achieved or recall the defensive frailty. We will simply look into the record books and recall a famous come-from-behind victory against a bitter rival. Turning the game around in this fashion, averting potential disaster, can give you a real lift in the weeks that follow. Expect Bayern to hand their Bundesliga opponents a few drubbings in the coming weeks, despite Pep's tinkering.

Related Stories: