Nine-goal Bayern Lay Down Marker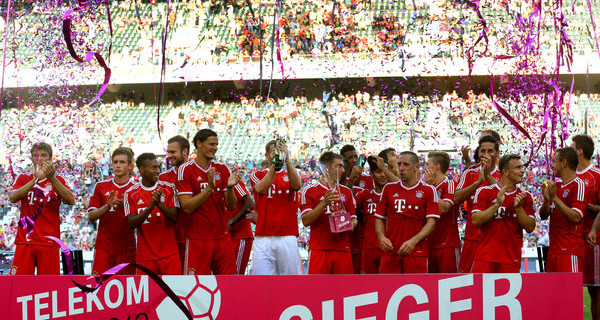 The penultimate weekend of July 2013 saw Pep Guardiola's Bayern Munich take part in a preseason tournament (Telekom Cup) alongside Bundesliga sides Hamburger SV, Borussia Moenchengladbach and Borussia Dortmund. In a 60-minute game format on a sunny Saturday in Moenchengladbach, Bayern stormed past Hamburger SV to book their spot in Sunday's final. They came up against the tournament hosts, who beat Borussia Dortmund on Saturday, and dealt with them equally as empathetically to win the tournament.

Hamburger SV 0-4 FC Bayern Munich
Goals: 0-1 Boateng (12'), 0-2 Mandzukic (41'), 0-3 Kroos (44'), 0-4 Mueller (52')
Without the heat of Saturday afternoon, Bayern, with new signing Thiago Alcantara making his debut, need hardly have raised a sweat in a dominant performance against their first top-flight opponents of preseason.
In the absence of Rene Adler, Hamburg goalkeeper Jaroslav Drobny was kept busy right from the start. Claudio Pizarro was twice denied before Jerome Boateng stroked home at the third time of asking to give Bayern the lead.
Thiago looked to have set up the Peruvian but his chip went over the bar as well as Drobny. Bayern were dominating and a gorgeous three-touch goal saw them double their lead ten minutes after half time. Thiago floated a lovely through-ball for Franck Ribery whose on-the-turn flick was finished off by Mario Mandzukic to leave Hamburg bamboozled.
Thorsten Fink's men rallied but never tested Tom Starke in the Bayern goal and soon enough Bayern had their third. With men streaming forward, Toni Kroos drilled a low shot from the edge of the area through Drobny to make it 3-0. Thomas Mueller added a fourth, leaping highest at the back post, as Bayern picked off where they left last season, namely in another final.
Hamburger SV: Drobny – Sala, Sobiech, Westermann, Jansen – Badelj, Arslan – Beister, van der vaart, Ilicevic - Zoua
FC Bayern München: Starke – Lahm, Boateng (48' Kirchhoff), van Buyten, Alaba – Thiago (48' Hojbjerg) – Kroos, Pizarro (42' Robben), Ribery, Shaqiri (53' Green) – Mandzukic (42' Mueller)
Yellow cards: Badelj
Attendance: 50,000
Referee: Christian Dingert

Borussia Moenchengladbach 1-5 FC Bayern Munich
Goals: 0-1 Ribery (17'), 0-2 Lahm (23'), 0-3 Thiago (26'), 1-3 de Jong (30' pen.), 1-4 Robben (41'), 1-5 Mueller (60')
Just as they did in their semi final, Bayern overpowered their opposition with a four goal margin. Spanish star Thiago Alcantara got on the scoresheet in an unusual manner as Guardiola celebrated a strong start to preseason.
The last time these two sides met was the final day of last season; a thrilling encounter that ended 4-3 to Bayern. This game, although far more relaxed, was equally as goal-heavy.
Despite an even start, Bayern soon took control. Toni Kroos fired over before Bayern finished the contest with three goals in ten minutes. Robben played a fantastic pass to Ribery to volley home, before Lahm tucked away from close range after a deflected effort from Mueller fell at his feet. A cross from the right-hand side found Thiago in space inside the box and the new signing audaciously flicked the ball into the back of the net with his chest to make it 3-0.
Luuk de Jong pulled one back from the spot after Diego Contento fouled Patrick Herrmann but it counted for little as Bayern stayed in control. Guardiola's men looked extremely focused throughout and although Ribery missed a chance, Robben nodded in from close range after a precise ball from his French teammate.
The two wingers were enjoying themselves and Robben's curling effort went narrowly wide. In the final minute, that fifth did arrive though, and the Dutchman was involved. Bayern combined beautifully with Robben playing in Ribery, who in turn played it across for Mueller to finish from close range and seal their first "title" of the season.
Borussia Moenchengladbach: Heimeroth – Jantschke, Nordtveit, Dominguez, Wendt – Herrmann, Dahoud, Xhaka (31' Kramer), Arango – de Jong, Hrgota
FC Bayern München: Starke – Rafinha, Boateng, van Buyten (49' Kirchhoff), Contento (31' Alaba) – Thiago (50' Shaqiri) – Robben, Lahm (50' Weihrauch), Kroos (51' Weiser), Ribery - Mueller
Yellow cards: Kramer - Contento
Attendance: 50,000
Referee: Guido Winkmann

Related Stories: