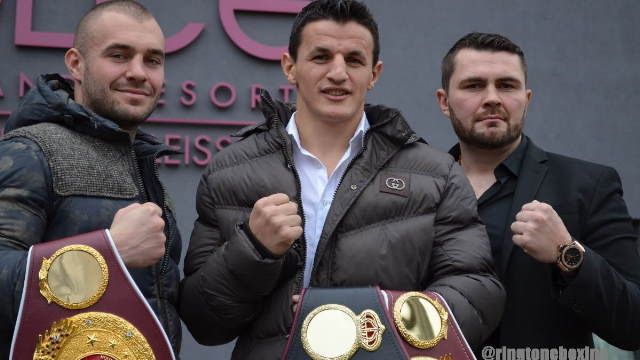 MUNICH - (MunichNOW Sports) -- Back in April 2012, Robin Krasniqi (42-3-0) traveled to London to do battle with Nathan Cleverly, the WBO light-heavyweight world champion at the time.
The Welshman put Krasniqi through a torrid 12 rounds and retained his belt by unanimous decision. 18 months on and Munich-based Krasniqi has worked his way back to the brink of another world title shot with not one but two sanctioning bodies.
On December 20th, Krasniqi will defend his WBO international and WBA continental titles against Poland's Dariusz Sek (20-1-1) at the BallhausForum in Munich, Germany. Also appearing on the bill are WBO Youth champion Dominic Bösel (16-0-0) and former cruiserweight world title challenger, Alexander Petkovic (49-4-4). It's going to be an emotional occasion for Krasniqi who headlines the show in his home town for the first time. 'It's a dream come true that I can box again in Munich. I have a lot of friends, a lot of fans and my family is here but I'm relaxed, I want to put on a good boxing show and hopefully I'll do that" said Krasniqi speaking to Fightnews today.
Should Krasniqi be victorious next month, he could line up a world title clash against the WBA belt holder and fellow countryman, Juergen Braehmer. Krasniqi is currently ranked #2 at the WBA and the WBO, meaning a possible meeting with highly regarded Russian Sergey Kovalev might also be an option. But before turning his attention to Braehmer or Kovalev, he must first get past Sek who has just one decision loss on his record coming against Robert Woge in 2013.
The 28-year old southpaw was in confident mood at today's press conference. "I'm going to beat Robin Krasniqi. As a southpaw, with my left hand carrying the power, I'll cause him problems and use that advantage to my benefit. Krasniqi hasn't boxed many southpaws. If my compatriot Pavel Glazewski beats Brahmer and I win the fight against Krasniqi, then it is 2:0 for Poland again." [caption id="attachment_14646" align="aligncenter" width="900"]This email address is being protected from spambots. You need JavaScript enabled to view it." alt="Dominic Bösel (16-0-0) and former cruiserweight world title challenger, Alexander Petkovic (49-4-4) with Robin Kraniqi, center" width="900" height="596" /> Dominic Bösel (16-0-0) and former cruiserweight world title challenger, Alexander Petkovic (49-4-4) with Robin Kraniqi, center[/caption]
---
BMW Open 2015: World-class Golf Comes to Munich

< Prev