The great European Cup teams: Bayern Munich 1974-76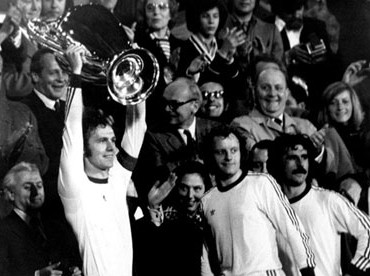 From The Guardian
Paul Breitner, the best afro-sporting, pipe-smoking Maoist left-back of all time, still remembers what he thought the instant Hans-Georg "Katsche" Schwarzenbeck took the shot that would become the most important goal in the history of the club; perhaps of any club, even. "Please don't shoot".
It was 15 May 1974, and Bayern Munich were trailing 1-0 to Atlético Madrid in extra-time in Brussels. Luis Aragonés, later Spain's Euro 2008-winning coach, had given the Spaniards the lead with a direct free-kick (114.), the Germans were running out of time. They didn't create any meaningful chances.
Twenty seconds from the final whistle, the centre-back Schwarzenbeck (dubbed "the Kaiser's cleaner" by the German media) found himself with the ball and no better idea than to try his luck from 25 metres. Gerd Müller was about to wave his arm, demanding a cross, when the low shot hit the back of the net. Legend has it that Atlético's keeper Miguel Reina, the father of Pepe Reina, was talking to a photographer behind the goal who had asked for his kit that very second. Video evidence is inconclusive. Reina senior has always denied the story.
Schwarzenbeck's goal forced a replay. Two days later, two superbly crafted goals from Müller and Uli Hoeness each destroyed Madrid 4-0. "We partied all night long," said Franz "Bulle" Roth, the powerful midfielder who would score decisive goals in the next two European Cup finals. "The next day, we had to play in Gladbach. We arrived fairly drunk and lost 5-0. Luckily, we were already champions and the game did not matter."
The first ever European Cup win by a Bundesliga team delineated the beginning of Bayern's rise to super-power status but in terms of footballing prowess, the side were ironically a little past their best already. West Germany's golden spine of Sepp Maier, the agile and almost indestructible keeper, the peerless sweeper Franz Beckenbauer and goal-machine Gerd Müller – 1,248 goals in 998 games for Bayern (according to the club's cheerleading museum, but still) – had been playing together for a decade under various coaches with differing tactical ideas. A mixture of accident (the young Beckenbauer was slapped by an 1860 Munich player and decided to go to Bayern instead) and clever scouting (Bayern signed up Müller just ahead of their local rivals) had brought these extraordinarily talented group of players together. Hard work and perseverance did the rest. In 1968-69 Bayern, the slightly less working-class club in the city, famously won their first Bundesliga title with only 13 different players on the pitch over the course of the season.
According to Franz Roth
"There was no particular secret to our success," Roth said, "playing with an unchanged side for five, six years meant that we had an instinctive understanding. It really helped that we were all from Munich or the nearby regions and we shared the same mentality and love for the club. And we had the three best players in the world in their respective positions."
Six members of Udo Lattek's squad – Maier, the tough-tackling Schwarzenbeck, Breitner, Beckenbauer, Müller and the pacy, powerful wide forward Hoeness – went on to win the European championship in 1972 (3-0 v USSR). That year also saw the champions Bayern at their most convincing and thrilling in the league. Müller, described as "a man of small goals" by the Germany coach Helmut Schön, scored 40 times, a league record that is still unsurpassed. "He is almost solely responsible for everything that we have become," Beckenbauer said about the striker's contribution. Bayern's points tally that year (79 when converted under the three points rule) was only broken by Borussia Dortmund last season.
Bayern were thrashed 4-0 by Ajax in a European Cup quarter-final in 1973. Maier was so upset with his own performance that he dumped his kit and boots into a little pond outside his hotel window. The Reds wouldn't be denied the following season. Neither they nor West Germany, World Cup winners in 1974, could ever find the fluidity of 1972 again, however, when they had utilised elements of Ajax's "total football" approach to confuse man-marking opponents.
Bayern, hungover after all that success, only finished 10th in the league in 1975 without Breitner. He had all but forgotten about his Maoist tendencies to sign for Real Madrid in the summer. Lattek had also departed, involuntarily. Dettmar Cramer, known as "Professor Football" for his meticulous preparation – "he knew the shoe size of every opponent and had film footage of other teams," recalled Roth – turned them into a counter-attacking side. Bayern held out to win a second European Cup in controversial fashion in the final against Leeds United in Paris, then lifted themselves just enough for one last successful European campaign the year later. "We were inconsistent in the league, tired by an endless numbers of friendlies that president (Wilhelm) Neudecker had us playing to cash in on our popularity," said Roth. His solitary goal against Saint-Etienne in the final – Bayern were outplayed by the French team for most of the match – meant that the European Cup would forever remain in Munich.
The triumph in Glasgow was tinged with sadness, however, as everyone knew that this team had run its course. There was hardly a party in the hotel. Neudecker even warned the players about the dangers of "winning too much," which left them thoroughly demoralised. Almost no one showed up to welcome the team back in Munich. Roth: "Everyone just went home, everyone went their separate ways."
The team broke up, secure in the knowledge that they had achieved a historical feat but less sure about their exact place in the pantheon of greats. "We were never seen as on the same level as Ajax or Madrid because we didn't win those Cups playing beautiful football," Hoeness said last year, with a just a hint of regret.

Related Stories: