SHERLOCK: The Prodigy Returns — A Martha Lewis Review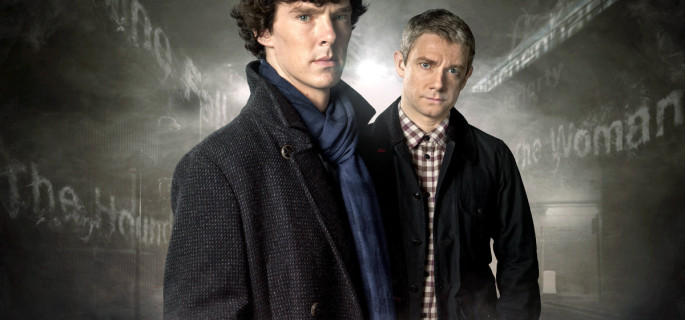 2014 may have been the first year when the majority of us were looking forward to New Year's Day more eagerly than New Year's Eve. Why? One word:  Sherlock.
On January 1, 2014, BBC1 aired the first episode in the long-awaited third series of Sherlock (spoiler alert). Over the past four years, TV and film viewers have been inundated with adaptations of Arthur Conan Doyle's beloved books. From Guy Ritchie's 2009 film, Sherlock Holmes, starring Robert Downey Jr, to Steven Moffat and Mark Gatiss' aforementioned BBC version - the "high-functioning sociopath" has even set up shop in New York in TV's Elementary, starring Johnny Lee Miller. With so much Holmes on our screens now, why are we so in love with Sherlock?
I put Sherlock's success largely down to the genius writing of Moffat and Gatiss, two veteran British writers who between them have worked on such fantastic British shows as Coupling, The League of Gentleman and, of course, Doctor Who. More so than Sherlock Holmes or Elementary, Moffat and Gatiss have created a series that is highly suspenseful and genuinely frightening. It is also by far the funniest of the three. Most importantly, the writers have, with the help of two great actors, created an amazing rapport between Holmes and Watson, a relationship which I believe is at the heart of why we so love the books and the various adaptations.
Another important and perhaps more obvious ingredient of success is Benedict Cumberbatch's performance as the eponymous lead. Cumberbatch has an undeniable allure which is hard to pin down, although part of it is quite clearly that voice. The audience doesn't care that he's rude or uncompassionate. When Sherlock speaks, at least fifty percent of viewers swoon.
Luckily for us fans, after a two-year gap between the second and third series, episode one of the new season - The Empty Hearse - did not disappoint. Sherlock is back from the dead and must reunite with his soul mate, John Watson (the wonderful Martin Freeman). Meanwhile, there are rumours that an underground terrorist movement is planning an attack and only Sherlock can uncover the truth! As funny, thrilling and generally entertaining as ever, the two-year wait was well worth it! Well, maybe don't make us wait to so long next time…
Editors note: Series 1 and 2 of Sherlock is available on Netflix and Amazon Prime video and in re-runs on BBC. Series 3 is running now with episode airing on BBC on 11 Jan 2014. BBC can be found on the web at Filmon.tv.
- Martha Lewis for MunichNOW
Related Stories: