Haar Disciples face Solingen in Playoffs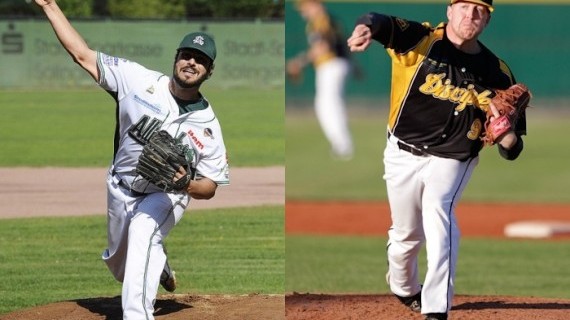 The Haar Disciples face the intriguing, but daunting prospect of having to battle against a former teammate when they host the Solingen Alligators in the first round of the German baseball's championship playoffs on Saturday. Haar earned a playoff spot after beating the Tübingen Hawks 3-2 in a make-up game last week, clinching fourth place in the 1. Bundesliga-South division in the process. Haar finished the regular season with a 16-12 record.But now the Disciples must go up against Solingen, a side who dominated the Bundesliga-North (23-5) and are paced by standout pitcher Nick Renault. The American posted an 11-1 record and won "Best Pitcher" honors in the North division this season.
So where's the drama in this? The answer is that this is the same Nick Renault who pitched brilliantly for Haar in the 2012 season - also winning honors as the South league's best pitcher - before he was kicked off the team. Munich baseball fans will recall that Renault, 33, was the man in the center of the late-season internal dissension within the Haar Disciples ranks. He was dismissed just before the playoffs, and without him, Haar were immediately eliminated in the first round.
So will Renault have some scores to settle against his former club when he shows up with Solingen on August 24th? If he does, it might not be a pleasant day for Haar's batters. Renault's stats this year show exactly why: He led the North division with a 0.60 earned run average - that's six-tenths of a run allowed per 9 innings. And, in his 105 innings pitched, he struck out 165 batters. That comes to 1.6 batters per inning, or more than one out of two batters faced.
Haar have a good American hurler as well, the "workhorse" Brian Fields, a man with equally impressive stats. Fields, 26, who came from runner-up champions Paderborn - a side where he played a leading role -, has thrown a phenomenal number of pitches this year (180 at times). As impressive as his numbers are, they are nowhere near Renault's. Fields posted a 9-4 won-lost record and a very strong earned run average of 3.35.  In 113 innings pitched he struck out 145 batters, but also showed occasional control problems, walking 65 batters.
Fields did stand out once with a near-perfect no-hit game against the Mannheim Tornados in early June.  But he had to share the German Baseball Federation's "Player of the Week" honors with another pitcher, one who succeeded in throwing a perfect game in Berlin. That pitcher was none other than Nick Renault.
So on paper, Solingen look to be the favourite to win this first playoff round. But Haar's first-year coach Keith Maxwell has done a good job in keeping his club competitive despite some setbacks. One of those was losing their star Dominican shortstop Dadynoel Lorenzo to bureaucracy. Dadynoel had to leave when his 3-month visa expired and he was unable to get an extension on it, forcing Maxwell to shuffle his team around a bit. His management was good enough to help Haar to a fourth-placed finish, but it remains to be seen how the Disciples will fare against the top club - and pitcher - from the North.
Playoff info:
German baseball's playoff rounds are a best-of-five format. The first round starts with two games on the weekend of August 24-25, followed by up to three games on the opponent's field a week later (August 31st-September 1st). The first-round matchups include:
Haar (4th, South Division) - Solingen (1st, North Division) Game times: 1 pm,  3:30 pm
Hamburg Stealers (4th, North Division) - Regensburg Legionaires (1st, South Division)
Bonn Capitals (2nd, North Division) - Mainz Athletics (3rd, South Division)
Heidenheim Heideköpfe (2nd, South Division) - Paderborn Untouchables (3rd, North Division)
Related Stories: