Harding's Hark - The Inside Story: Clinical pressing works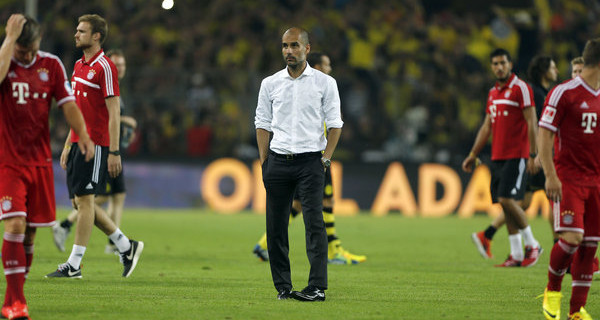 As much as Dortmund had a game plan, I don't think many would have predicted them to be as effective, or do it for as long, against this Bayern team. Their pressing was reminiscent of the Champions League final but pivotally, was utilised and sustained to greater effect. Bayern struggled with it in the first half and, apart from some sporadic moments, were nowhere near it in the second. Even in the last ten minutes when Dortmund were sitting much deeper, the hosts still had more to draw on – their fourth goal was an excellent example of how to counter attack.
Perhaps a far from testing preseason, including the Barcelona side that visited last week, left Bayern ill prepared for a hungry Dortmund team. Even in the warm temperatures, Klopp's men set about their task aggressively. Just as they did during early spells of the Champions League final, Bayern, both individually and as a collective, looked unprepared.
Having hailed his poor performance last week against his former club as an anomaly, Thiago was not at his best. His chip to Mueller reminds us of the flair he possess, but too many of his passes went astray and he looked as though he didn't know what to do with Guendogan. Mind you, not many do. The much sought-after midfielder put on one of his most complete displays (in a more offensive role), suggesting that even in the riches of Bayern's midfield, there is still something missing. That, or Javi Martinez's absence really is a problem.
Thiago wasn't alone in his confusion though. Having opted not to start Dante (match fitness still an issue?), the central pairing of Jerome Boateng and Daniel van Buyten didn't mark tightly enough. Robert Lewandowski, so well shackled by the Brazilian in the pair's last meeting, thoroughly enjoyed himself and the space he was afforded. As good as Lewandowski's movement was, the Belgian's own goal could have been avoided by better positioning and less irrational decision-making from the defender.
Mario Mandzukic was short of scoring on a number of occasions, and was short of his best too. Thomas Mueller being deployed in midfield seemed to cancel out both the reason of the striker's inclusion and the German's effectiveness. When Schweinsteiger came on midway through the second half, Mueller was moved onto the right wing and was noticeable in his absence.
What of Schweinsteiger? With someone new seemingly taking over the holding midfield role at the club, Mr. Bayern must adapt. In the face of his international rival though, Schweinsteiger struggled under the pressure. Toni Kroos handled the midfield better, maybe as a result of being extensively involved in preseason.
Tom Starke had a poor moment but not a bad game. The same could be said for Xherdan Shaqiri, who perhaps should have scored (credit must be given to Roman Weidenfeller though). Manuel Neuer's inclusion might have been the difference – see the timings of his saves in the Champions League final – but to suggest that Franck Ribery would have decided the game is perhaps more ambiguous. As fantastic as the Frenchman is, and has been, he too had a quiet game against Dortmund last time around.
Guardiola's tactics in the face of defeat were revealing. There were echoes of his time at Barcelona when he used to thrust on Zlatan Ibrahimovic after plan A hadn't worked. Putting Dante on for the final few minutes in an attempt to create something out of a long-ball situation was disappointing; it left Guardiola showing his cards before the turn.
In between the pre- and post game handshakes and smiles, Klopp and Guardiola also revealed their first confrontation. When Mario Mandzukic battled with Marcel Schmelzer during the second half, the German disapproved the decision of the referee, while the Spaniard doubted the reaction of his opposing number. It's going to be fascinating to watch.
Two players who did impress for Bayern were Philipp Lahm, as always, and Arjen Robben. The captain supplied two assists and looked solid defensively, even though the others along the defensive line didn't help him. The Dutchman, again out to prove a point, was clinical. Handling his fitness will be key to getting the most out of him this season.

Related Stories: