Guardiola's plan starts to take shape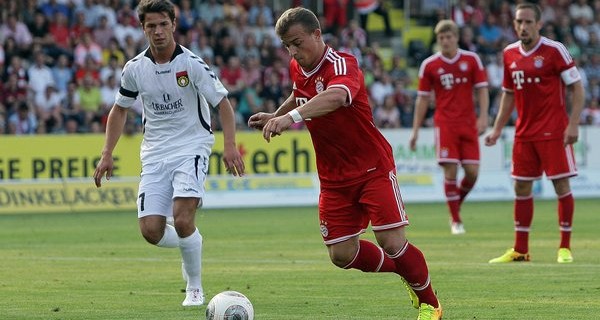 Bayern's pre-season preparations continued this weekend as they saw off their latest friendly opponents with an uneven split of ten unanswered goals. SG Sonnenhof Grossaspach were seen off 6-0 on Saturday before former Bundesliga side Hansa Rostock were beaten 4-0 the following day.
In a stadium-record crowd of 10,000 on Saturday, Bayern showed no signs of fatigue from their training camp in Trentino, as they overwhelmed their fourth-tiered hosts.
Two goals from Xherdan Shaqiri in the opening half an hour
were added to by Toni Kroos and Arjen Robben by half time. In the second half, David Alaba's free-kick and youngster Julian Green's long-range strike completed a comfortable afternoon for Guardiola's men.
Sunday's game against Rostock was a benefit match for the cash-strapped hosts. The third-division side received around €1 million that will help them pay their third-division licence.
Philipp Lahm, in right midfield, gave Guardiola's men the lead having been found by Ribery as Bayern moved the ball around quickly and efficiently. The second goal followed shortly afterwards as Claudio Pizarro's lay-off was dispatched by Ribery into the bottom corner.
Manuel Neuer, starting in goal, made a couple of saves to deny the visitors before two half-time changes (Mario Mandzukic for Pizarro and Robben for Rafinha) were made. Even with Lahm back in his position, Bayern suffered from the changes and looked a little tired as Rostock forced an excellent save out of Neuer.
Despite a lack of pace in the game, Bayern added two more in the latter stages. A cushioned header from Mandzukic allowed Mueller to turn and fire home a half-volley before the Croatian turned goalscorer, knocking in a rebound from a Pierre-Emile Hoejbjerg effort.
Key observations:
-       Guardiola once again favoured the 4-1-4-1 formation. It seems likely he will drop the popular two defensive-midfielder system for the season ahead, thus favouring an attacking flavour to the midfield.
-       On Saturday, Shaqiri and Robben played wide, Franck Ribery and Patrick Weihrauch centrally. On Sunday, he opted for Shaqiri and Lahm (Robben in the second 45 minutes) on the flanks, with Mueller and Ribery in the middle. Guardiola seems determined to have as many of his attacking midfielders on the pitch at once.
-       Toni Kroos was the solitary defensive midfield anchor for both games. As irrelevant as preseason games are, Kroos knows he will need to impress with Schweinsteiger only unavailable due to injury.
-       Contributions from each individual in every department are pivotal to the formation Guardiola continues to label as "not important." The aim is to attack and defend collectively. He expects fluidity and versatility from every member of his squad.
-       Lahm played at right back on Saturday but was then moved into right midfield on Sunday. He scored the opener and hardly looked out of place. It is unlikely he will play there in this formation but if Guardiola changes to a more centre back heavy formation, such as 3-3-3-1, Lahm may move forward.
-       Pierre-Emile Hoejbjerg took over for Kroos in both games (45 minutes on Saturday and nine on Sunday) and looked extremely proficient for a 17-year-old. Expect big things.
-       Emre Can was deployed at centre back on Saturday and then right back on Sunday even though he is most capable in defensive midfield. In light of Javi Martinez's expected move to the centre of defence, will Guardiola look to make Can another ball-playing centre back?
-       Patrick Weihrauch was given the full 90 minutes on Saturday (10 on Sunday) and has seized his chance in preseason. Bayern's squad is bulging with midfield talent but Weihrauch may have done enough to convince Guardiola that he can be a useful substitute.
-       Alessandro Schoepf, a 19-year-old Austrian attacking midfielder, has also impressed. However, it seems Weihrauch may have the edge on him and Schoepf will have to work tremendously hard to get game time.
-       Thomas Mueller missed a second-half penalty, despite being 100% from the spot last season.
-       Toni Kroos was captain for the game against Rostock, the club where he played his youth football. It was his first time as captain of Bayern.

Related Stories: