Klitschko Rallies Supporters in Munich; Kerry Weighs In at the Security Conference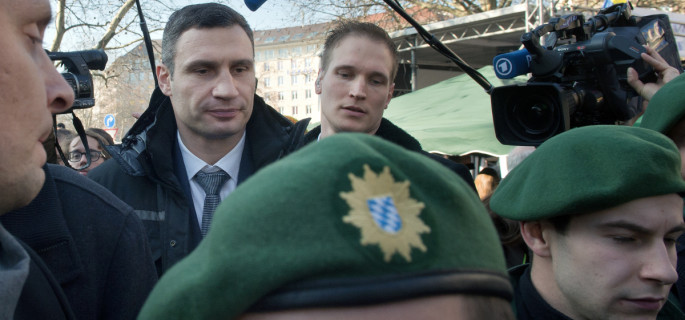 Munich (dpa/MunichNOW News) - The Ukrainian government launched legal proceedings against Dmytro Bulatov, an anti-government protester who said he was abducted and tortured, for his involvement in mass protests, the Internal Affairs Ministry said Saturday.
Ukrainian officials are seeking to place Bulatov under house arrest after the activist, who had disappeared for eight days, re-emerged Thursday and said unknown captors had kept him in a dark room and partly cut off his ear.
The 35-year-old, who drew attention to himself in recent weeks through a series of contentious speeches, is under surveillance by state police at the hospital where he is receiving medical treatment with officials saying it is for his own protection, local media reported.
Four protesters are confirmed to have been killed during the two months of demonstrations, three of them as a result of bullet wounds. A fourth was found dead with signs of torture after he had been taken from a hospital.
Bulatov's disappearance caused significant outrage on the international stage with EU foreign policy chief Catherine Ashton describing his treatment as "completely unacceptable."
German Foreign Minister Frank-Walter Steinmeier called on the Ukrainian government to allow Bulatov to receive medical treatment at a hospital in Germany.
The investigation into Bulatov is considered further evidence of the Ukrainian government's crackdown on protesters. The state police are also investigating what they called an attempted coup in connection with the protests held by the opposition since November.
The Ukrainian Security Service, or SBU, assembled evidence in the investigation during a December raid on the offices of the party of jailed opposition leader Yulia Tymoshenko, SBU officer Maxim Lenko said Friday night on television.
Information confiscated during the raid showed protesters aimed to provoke police violence against demonstrators and thereby undermine the
authority of President Viktor Yanukovych and his government, Lenko said.
Tymoshenko's Fatherland party described the announcement as a provocation.
Political upheaval in Ukraine also became a focal point at the Munich Security Conference Saturday with US Secretary of State John Kerry saying the future of the country should not be decided through coercion.
Ukrainians "are fighting for the right to associate with partners who will help them realize their aspirations, and they have decided that means their futures do not have to lie with one country alone, and certainly not coerced," Kerry said.
Opposition protests started in Kiev after the Ukrainian government refused to sign an association agreement with the European Union and instead inked trade deals with Russia, which is trying to keep Ukraine within its sphere of influence.
Kerry said Russia should not look at the agreement with the EU as a "zero sum game."
His Russian counterpart, meanwhile, accused European countries of encouraging anti-government protesters in Ukraine to commit violence.
"What does incitement for rising violent protests have to do with democracy?" Foreign Minister Sergei Lavrov asked in Munich. "Burning of government buildings, attacks on the police? Why are European politicians encouraging this?"
Ukrainian Foreign Minister Leonid Koschara also criticized Western involvement in his country's political crisis.
"We refuse to be a pawn in this geopolitical game of chess," he said at a meeting with Lavrov on the sidelines of the security conference. "This is humiliating and harmful to the Ukrainian people."
"We do not want anybody to interfere with our strategic partnership with Russia, but we are also drawn to the European Union," he said.
In an earlier address, EU President Herman Van Rompuy reiterated that the association deal is still on the table.
"The offer is still there," he said. "We know time is on our side. The future of Ukraine belongs with the European Union."
The Ukrainian opposition stood firmly behind its demands that the country turn more towards the West.
"We want to become a modern European country with a safe future," Vitaly Klitschko of the Udar opposition party told several hundred supporters in central Munich.
He called on protesters not to give up: "Without a fight, there is no victory, … and we will be victorious."
The former boxing champion also made reference to sanctions that Europe should consider imposing on the government of Yanukovych to expedite a political transition.

Related Stories: