Roeber's Rant - The Inside Story: Slow Progress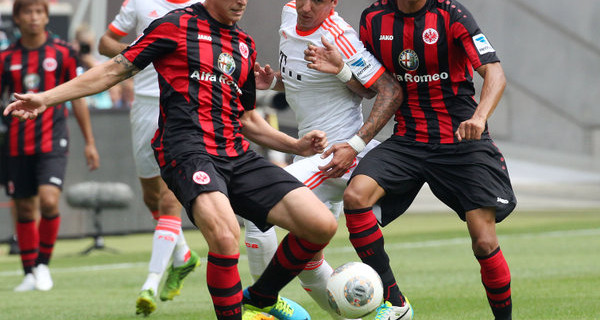 "We won't win the championship like this," were Pep Guardiola's words of warning ahead of the Frankfurt game. He was referring to his team's current form and his thesis was confirmed in the second half.
Obviously, the season is just a couple of weeks old and anyone with a sensible mind will allow Bayern and Pep some more time before making any final conclusions. Fact is, Bayern have won their opening three matches and have set the foundation for a successful season. They also set a new club record by going the last 27 Bundesliga games without defeat.
Tactically, Guardiola made just one change compared to the opening day victory, replacing Arjen Robben with Xherdan Shaqiri. The Swiss international linked up brilliantly with Franck Ribery in the opening 15 minutes, causing mayhem on the left wing.
Schweinsteiger played the solitary defensive midfield role in Bayern's 4-1-4-1 formation. He often dropped back between Boateng and Dante when Bayern were in possession. This allowed both fullbacks, Lahm and Alaba, to push forward, creating a 3-5-1-1 with the offensive midfielders in constant rotation.
Schweinsteiger was noticeably concerned with giving his side more defensive stability, perhaps a reaction to the criticism that followed after the opening day of the season when Bayern allowed Gladbach a number of decent chances.
Bayern were once again not without defensive problems – a sacrifice Guardiola is apparently willing to make in order to transcribe his vision of attacking football. Bayern's first half performance was superb. They dominated Frankfurt and only have themselves to blame that they weren't up by more than one at half time.
It's also fair to point out that Frankfurt scored before half time and Gagelmann wrongfully disallowed it for an offside position. It was close and the linesman can be forgiven for his error. Another tricky situation occurred at the end of the second half, when Boateng pushed Meier just before taking his shot. Replays suggested a penalty might have been justified.
Post game, Frankfurt coach Armin Veh was furious about the decisions. Mind you, he failed to note that Robben also scored a goal from an onside position in the second half that was ruled out by the referee.
Bayern had a number of problems in the second half as Frankfurt started showing more aggression and put the pressure on the visitors. Build-up play from the record champions was poor, but chances remained rare on either side until the final five minutes.
In the end, it was a deserved win for Bayern. Their first-half performance was good enough but it was a lot closer than it needed to be. If one thing can be criticised at this early stage, it has to be the performance of Thomas Mueller. Yes, he provided the assist for the only goal. But otherwise he was the least impressive attacking player, as he was against Gladbach. He often gets criticised for lacking a stronger mentality in "small" games and this can definitely be said about his performance against Frankfurt. On the other hand, it's not the first time that Mueller has endured a poor spell of form and he has always recovered before. My guess is that his time will still come this season. He can't allow himself to sit back for too long though. Bayern's quality on the bench means it is only a matter of time before someone else seizes the opportunity.
"We produced a much better performance today than we did against Gladbach. We controlled the game and didn't allow as many counter attacking opportunities. We created a lot of chances, but still weren't clinical enough. I'm still 100% happy today," was Guardiola's reaction after the game. Whether the fans are just as happy remains to be seen.

Related Stories: