Harding's Hark - The Inside Story: Disjointed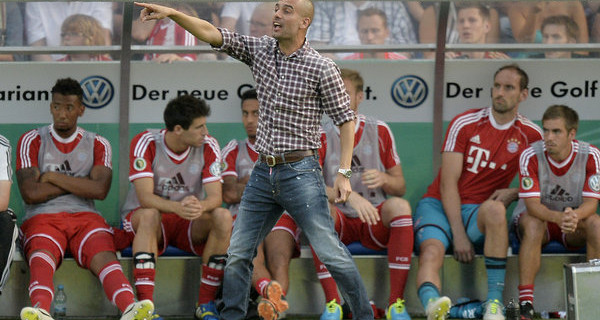 Despite a healthy scoreline in Pep Guardiola's second competitive outing as Bayern manager, his side once again looked disjointed. The pressure they were under against Dortmund served as a genuine reason for their break in fluidity; against a side like Rehden though, it certainly suggests the team are still adjusting to Pep's new system.
Players were once again constantly seen swapping flanks or moving forward and then dropping deeper. It begs the question as to whether Pep Guardiola has taken something Jupp Heynckes made so perfect, and has tweaked it too much? Certainly in the opening stages of the game it was Guardiola's Bayern on show. They enjoyed vast amounts of possession but with little penetration; a sign of patience or adjustment?
Bayern's individuals are struggling with this. Dante, a character who is usually all smiles, had an unusually short temper. His defensive partner, Daniel van Buyten, made two more glaring, individual errors that were fortunate not to be punished. Mario Mandzukic, a man who has made no secret of his recent frustration, grew increasingly angry by the fact he couldn't find the back of the net. His place in the team shouldn't be solely on that merit, but it seemed like he was playing for his place in the side.
Thomas Mueller remains the jewel in the crown. We didn't need to see him score three goals against a lower-league opposition to realise this, but his performance suggests that he will not only be the false nine Pep wants, but also perhaps the player that will shine the brightest in the new system.
Jan Kirchhoff became the latest trialist in the defensive midfield role, and although thirty minutes in the first round of the cup doesn't provide much room to analyse, he is a valid option. His lack of flair (Thiago) and skill (Schweinsteiger) isn't an issue. He is a fairly one-dimensional midfielder that makes all the simple passes stick and acts as a functioning pivot. He's a safe, controlling option.
There is a tension circulating around the Bayern team. It was evident from a number of faces just after the half-time interval. Pep had marched onto the pitch to give instructions, but by the time he had returned to his dugout, his team were all wearing faces reminiscent of stroppy teenagers. 5-0 win or not, Guardiola's honeymoon period has come to an end before the start of the league season.

Related Stories: