Kiraly Sends 1860 Through in Penalty Drama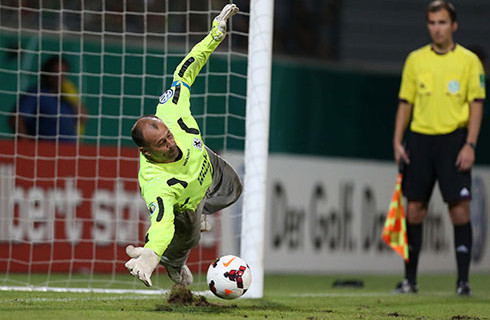 FC Heidenheim 1 – 1 TSV 1860 Munich
(1860 win 4-3 on penalties)
Goals: 0-1 Stoppelkamp (49'), 1-1 Göhlert (90'+1)
1860 Munich needed a penalty shoot-out to see off third-division Heidenheim. Moritz Stoppelkamp had given the visitors an early second-half lead, before Tim Göhlert levelled the scored in injury time. In the shoot-out, 1860 legend Gabor Kiraly emerged as the match winner, saving two penalties to hand his team the win. 
In the opening set of first-round German Cup (DFB Pokal) games, the hosts immediately attempted to take control of the game. 1860 had the first chance though. After centre back Ingo Feistle and goalkeeper Rouven Sattelmaier had a misunderstanding, Benjamin Lauth nearly took advantage of an empty goal.
Under gruelling 30°C + temperatures, both teams were playing at a high pace, but chances were at a premium as Heidenheim more than held their own against 1860. Shortly before half time, Lauth found himself one-on-one with Sattelmaier, but the Heidenheim goalkeeper made a superb save to keep the score level at the break.
The favourites quickly took advantage in the second half. From a Heidenheim free kick, 1860 quickly swarmed forward on the counter attack. 1860 were three-on-one, and the lonely Mathias Wittek (Heidenheim's last man) couldn't prevent Bobby Wood from playing a perfectly timed pass across to Moritz Stoppelkamp, who tapped into the empty net for the lead.
In true cup fashion, Heidenheim battled on and, urged forward by their home crowd, they created a number of decent opportunities throughout the second half. With 13 minutes left, Daniel Adlung nearly sealed the tie for the visitors when, after a fine run, his left-footed strike struck the woodwork.
Just when it looked as if 1860 had done enough to see off a stubborn Heidenheim, Tim Göhlert found himself recklessly unmarked in the area from a corner and, to the delight of the home fans, equalised in the dying moments.
No winner was found in extra time and so a penalty shoot-out followed. Krebs, Schnatterer, Mayer all scored for the hosts, while Lauth, Stark, Adlung and Stoppelkamp all found the net for 1860. Kiraly pulled off two magical saves to deny Niederlechner and Heise, giving 1860 a narrow victory and a ticket to the second round.
FC Heidenheim: Sattelmaier – Malura (79' Krebs), Göhlert, Wittek, Feistle (59' Bagceci) – Griesbeck, Reinhardt (71' Mayer) – Hesse, S. Sökler, Schnatterer – Niederlechner
TSV 1860 Munich: Kiraly – Volz, Schindler, Bülow, Hertner (46' Wojtkowiak) – Stoppelkamp, D. Stahl (75' Friend), Y. Stark, Adlung – Wood (64' Hain), Lauth
Yellow cards: Reinhardt, Schnatterer, Bagceci – Schindler, Stoppelkamp
Attendance: 8,500
Referee: Harm Osmers

Related Stories: