Summer Fun in Munich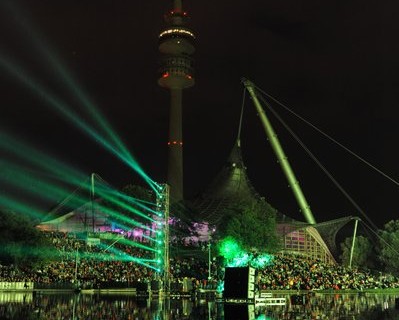 This weekend (July 26th-28th) in Munich will have epic heat, so here are some cool things to do to make the most out of the weather.
Friedenengelfest  (Angel of Peace Festival) – Located near the Isar, this festival has live music, lots of locals, a great setting and is open late. It's a great place to see and to be seen.  It runs through July 28th.
Oper für Alle (Opera for Everyone) – July 27th, 8:30pm. Located in the heart of the old town, this promises to be a major event. The trick is to go early enough to secure a place at Max Joseph Platz before the show, but not too early or run the risk of being cooked before the curtain opens. Think of it as a sort of Woodstock Festival with Beethoven and Verdi rather than Richie Havens and Joan Baez. Here's the program.
Also on the 27th is the hugely popular and equally spectacular "Munich's Summer Night's Dream" at Olympiapark. German music stalwarts Nena and Scooter will provide the live entertainment, which is then followed by a fireworks display over the center of the park. It's a wonderful way to spend the evening with that someone special or new acquaintances. For more info go here (in German).
Munich, like many major European cities, is loaded during the short summer with an array of different events, festivals, concerts and parties. Perhaps you'd like to find your own thing, which is simple enough. Start on one side of town and walk a straight line to the other, avoiding the main roads, and you're sure to find something hidden around the corner. Just follow your senses - it's exactly what we here at munichNOW do!

Related Stories: