Lenbachhaus Museum Reopens with Norman Foster design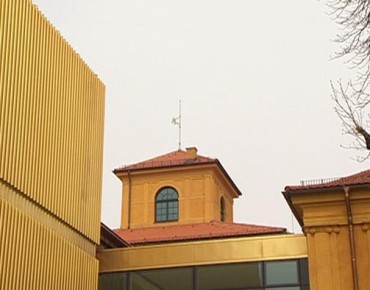 The Lenbachhaus Museum has re-opened after renovation with a new extension designed by British architect Norman Foster. The brass facade is a dramatic contrast with the yellow ochre of the original house.
Following a 59.4 million-euro ($77.7-million) renovation, the Lenbachhaus reopened Wednesday. A mix of dramatic new and homely old, the new building comes with special LED lights created by Osram GmbH (OSR) and Munich artist Dietmar Tanterl to replicate daylight and minimize damage to the artworks.
The copper and aluminum tubes on the new facade rise high above the stucco walls of the original, italianate villa. Inside the foyer hangs a glittering "Wirbelwerk" (Whirlwind) by Olafur Eliasson. On the ground floor, a display of Erwin Wurm's headless sculptures with outsized sweaters precedes Munich's 19th-century landscape painters.

The first floor has postwar works by Gerhard Richter, Isa Genzken, Sol LeWitt, Ellsworth Kelly and Wolfgang Tillmans. Joseph Beuys' "Zeige Deine Wunde" (Show Your Wounds) is a huge piece with two mortuary trolleys, Italian newspapers and garden tools.
The top floor makes best use of the new, natural lighting and houses the works by "Blue Rider" expressionist artists including Wassily Kandinsky, Franz Marc and Gabriele Münter. Münter gave a thousand of her works to the museum on the occasion of her 80th birthday. The collection includes Marc's blue horse and his watchful tiger as well as Kandinsky abstracts.
The Lenbachhaus belonged to the artist Franz von Lenbach (1836-1904). It was built to the design of an Italian villa complete with green shutters and courtyard garden. Munich's city government bought the house from Lenbach's widow in 1924 and opened the museum there in 1929. Visitor numbers were anticipated at 10,000 a year. By 2008 the museum was attracting 450,000 and was in need of renovation.
British architect Norman Foster, who grew up in the northern industrial city of Manchester, was given the task of designing an improved museum.
Related Stories: