Prosecutors Cite "Execution-style" Murders at Munich Trial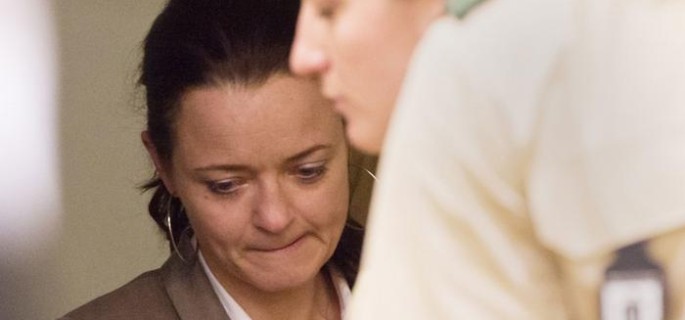 Prosecutors at the Munich trial of five suspects accused over a neo-Nazi group's murder spree have cited "execution-style shootings." Defense lawyers sought more delay, including motions to shift to a larger courtroom.
Prosecutors at the Munich trial of five suspected neo-Nazis on Tuesday formally accused the main defendant, 38-year-old Beate Zschäpe, of direct complicity through logistical support she provided to two deceased gunmen. The prosecution indictment said the murders of 10 people across Germany, mostly ethnic Turkish small business proprietors, were driven by "racist and anti-state" dogma.
The victims were eight ethnic Turks, a Greek immigrant and a German policewoman who were murdered between 2000 and 2007. Zschäpe faces life imprisonment if convicted.
Lead federal prosecutor Herbert Diemer said during his one-hour reading of formal indictment papers that Zschäpe (pictured above) was a key accomplice in "execution-style shootings" perpetrated by the former National Socialist Underground (NSU) terror cell.
Zschäpe assisted closely, say prosecutors
Diemer said Zschäpe's task during the planning and carrying out of every murder and a series of 15 bank robberies was to disguise the movements of the two gunmen, provide them with a secure hideout, and to administer the spoils.
In addition, the NSU members were responsible for two bomb attacks in Cologne that left at least 23 people wounded and the last of the 10 assaults in 2007 when a policewoman was murdered in the southern German city of Heilbronn, he said.
The assailants Uwe Mundlos and Uwe Böhnhardt died in an apparent murder-suicide inside a camper van in the eastern German town of Zwickau in November 2011 as police closed in after a botched robbery. Authorities claim Zschäpe torched a local apartment she had shared with them in a bid to avoid detection.
"As a founding member of the core group that consistently shared national socialist racist beliefs and whose single intention was to kill people, the accused [Zschäpe] knew this and wanted success at any cost," said Diemer. Zschäpe had accompanied Böhnhardt when arranging camper van rentals and she was involved in obtaining weapons.
The prosecution accused the four male co-defendants of helping during the murder series. It accused two, including far-right extremist Ralf Wohlleben, of obtaining the Ceska pistol used in the murders; another defendent of helping to hire camper vans and a fourth accused of providing documents and identity papers that enabled Zschäpe and the two deceased assailants to live in obscurity.
Procedural motions
Tuesday's indictment readings were preceded by more procedural motions from defense lawyers after an eight-day delay since the trial's formal opening on May 6.
One of Zschäpe's lawyers, Wolfgang Heer, demanded on Tuesday that "the trial be restarted in another courtroom which has sufficient capacity for the public, given the importance of this trial."
Heer even proposed the former federal parliamentary debating chamber in Bonn, which is now used for conferences, as an alternative trial venue.
Munich's regional court chamber with the acronym A101 has only 100 seats for the public, half of them reserved for journalists. Almost 400 police were stationed around the complex on Tuesday.
A co-plaintiff demanded that a Christian cross be taken off the wall of the courtroom, citing Germany's constitutional separation of state and religious belief.
When asked to confirm her name, Zschäpe, wearing a grey business blazer, stayed quiet. Heer told the court: "My client will not give any information regarding her person."
Several relatives and representatives of murdered victims present in the courtroom on Tuesday expressed frustration at the procedural delays and arguments between defense lawyers and the presiding judge Manfred Götzl, who insisted that he was in charge.
"You are interrupting me again," said Götzl." It's my turn and you are impolite and keep interrupting me," replied Heer.

ipj/kms (AFP, dpa)
Related Stories: