Justin Bieber's Monkey, Mally, "Now the Property of Germany," Munich Customs Spokesman Says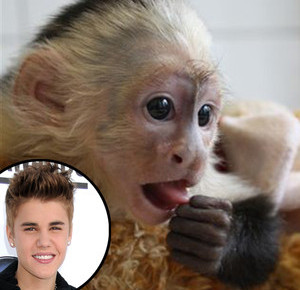 Mally is no longer Justin Bieber's pet monkey.
Thomas Meister, spokesman for the Munich Customs office, exclusively tells E! News: "Mally is now the property of Germany. It will be official in six weeks. Today he is definitely confiscated by Germany. We have officially confiscated Mally today."
The decision comes nearly seven weeks after German customs officials seized the little fella from Bieber during a tour stop in Munich after the pop star failed to provide the requisite paperwork.
Justin Bieber has six weeks to bring more papers or contest this decision, but if we don't hear from him, the decision to confiscate the monkey will be legally binding," Meister said. "I don't think he will bring papers because he had six weeks before and nobody contacted us."
Meister added that Mally is expected to move to his new home next week, but would not reveal the location.
"We are not going to say where Mally will go because Mally needs quiet and a lot of Justin Bieber fans would go to the zoo," he said.
"He is going to a place where there are a lot of Capuchin monkeys. Mally needs to integrate with his new family of Capuchin monkeys and start a new life. I think the home will be in Germany."

As for how the baby monkey is doing, Meister said he actually visited him at the Munich shelter where he is staying.
"Mally is fine. His current weight is 1.2 kilograms. Mally is in a special part of the shelter. Currently, I have seen him playing with the staff. He is playing and turning around and he climbed on the trees. I think he will be really fine," Meister noted. "He is very healthy. [The staff] is happy he will be getting a new family of Capuchin monkeys. He is alone and it's better for him to get a new family."
Meanwhile, Meister will be sending Bieber an invoice to pay for the cost of Mally's care at the shelter, which he estimated at about $6,500.
Related Stories: