Bayern Set for Title Bash; Hamburg Fight for Survival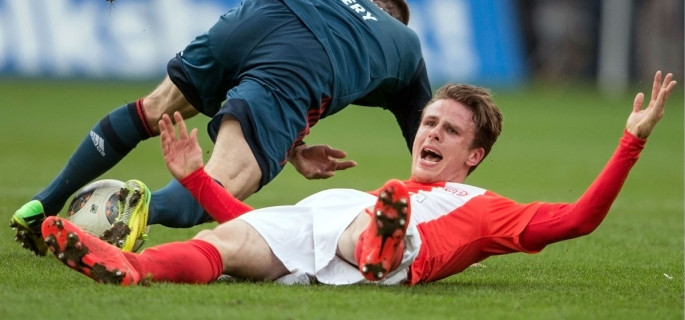 Berlin (MunichNOW Sport / dpa) - Pep Guardiola better bring a spare suit along as he faces being doused in beer by his Bayern Munich players if they clinch another Bundesliga title in record time with victory at Hertha Berlin on Tuesday.
Bayern hold a 23-point lead and can no longer be caught by either Borussia Dortmund or Schalke if they get a 25th victory in the 27th match of the latest milestone season.
The former Barca coach Guardiola in summer replaced Jupp Heynckes, who had led Munich to their first title treble in the past campaign, taking the Bundesliga crown with a record six games left on April 6, 2013.
That record is now set to fall in Berlin's Olympic stadium against ninth-placed Hertha, as there are seven rounds left afterwards and a Bundesliga champion has never been crowned in March before.
Pouring huge glasses of Bavarian beer over the coach is the traditional way for Munich players to celebrate the title, and Guardiola will be the latest victim.
"There's obviously a great sense of anticipation," left back David Alaba told the Bayern website. "We know we aren't over the line yet, so we'll keep on working hard. We want to win the league as soon as possible."
Guardiola is taking the full squad to Berlin because "we must celebrate when we win the title … The (Bundesliga) championship is the most important title. It is definitely a good season if you win the title."
Bayern will have further Bundesliga records in their sight in the remainder of the season apart from chasing another treble, such as going unbeaten in a season, but the general focus will shift once they have wrapped up the title.
In another big match, 2011 and 2012 champions Dortmund take 51 points into their showdown with arch-rivals Schalke (50) on Tuesday in which both teams have plenty of injury concerns.
"Schalke have only one point less than we do, so it's not just the derby itself that motivates us. It's also the battle for second place, and that's where we want to finish the season," Dortmund striker Robert Lewandowski told his club website.
"This is a real top match now, and we really want to win it. We fared quite well in the last couple of derbies, and I hope this is also the case on Tuesday. We will be highly motivated."
The Ruhr-area rivals hold a comfortable cushion over Bayer Leverkusen (44 points), who crashed 3-2 at home against Hoffenheim Sunday and must fear for their Champions league qualifying berth, with Borussia Moenchengladbach only three points behind, and Wolfsburg and Mainz four points adrift.
Coach Sami Hyypia is under big pressure after just two wins in nine games since the winter break, and must deliver in Augsburg Wednesday.
"We have been very happy with him, and we still are more or less, but, then again, we have dropped many points," sports director Rudi Voeller said.
But the real drama takes place in the lowlands where half the league is fighting to stay alive.
Hoffenheim appear safe on 32 points along with Hanover, Frankfurt and Bremen, who have 29 each. Four points below, Freiburg are on 25, VfB Stuttgart have 24, SV Hamburg 23 for the relegation play-off spot, Nuremberg also 23 and Eintracht Braunschweig 18 in the last two places which would mean a direct drop.
The league schedule now pits Hamburg against Freiburg and Nuremberg against the 2007 champions Stuttgart on Wednesday, with Hamburg desperately trying to avoid their first drop since the Bundesliga was founded in 1963.
"We have our next crucial game at home to SC Freiburg. We want to play the way we did against Nuremberg (2-1 win before a 1-0 loss in Stuttgart) and collect maximum points again," Hamburg's Dennis Diekmeier said.
Related Stories: