Bayern Munich's Ribery Off French World Cup Team With Back Injury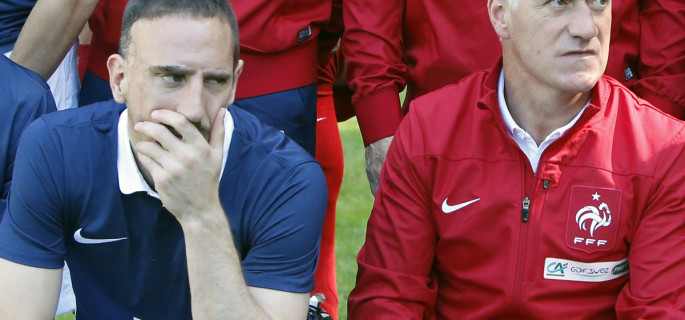 Paris (MunichNOW Sportx / dpa) - France's chances at the 2014 World Cup took a huge blow on Friday as Bayern Munich superstar Franck Ribery was ruled out of the Brazil spectacle with a back injury.

"He is not capable of training for a few weeks, let alone play a game," France coach Didier Deschamps told a news conference Friday after Ribery had injured his lower back during training.

The 31-year-old Bayern Munich winger had to leave training Friday after complaining of pain, eventually going to have an MRI scan.

"He had to stop in training, the pain was too strong. We made checks in the beginning of the afternoon, checks that confirmed the situation has aggravated," Deschamps said.

"It is a difficult moment for the group, a sad day. But we have to get through it."

Ribery missed France's recent World Cup warm-ups against Norway and Paraguay, and as it turns out will not play again for France this summer.

"I leave my teammates with a heavy heart. But I know that I can trust them and that they will give their best for the blue shirt so that they can advance as far as possible," Ribery said on the French federation's home page.

In addition to Ribery, Deschamps also had to strike Lyon's Clement Grenier from the 23-man roster for Brazil 2014 with a hip injury, leaving the Les Bleus boss to call up Southampton's Morgan Schneiderlin as well as Montpellier forward Remy Cabella.

"It's sad for me and the French team," the star told the German outlet Sport Bild Online.

Ribery was hoping to play his third - and likely final - World Cup. He intended on making up for the embarrassing 2010 World Cup, where the French team imploded with a player strike and other antics.

The World Cup exit before even leaving for Brazil is just the latest episode in a disappointing 2014 for Ribery. In January he finished third in the voting for the World Footballer of the Year. He also went through a number of health concerns in the second half of the season.

"We have to remain confident. Certainly we are a better team with a 100 percent fit Ribery. But we will try to get it done without him," Deschamps said nine days before the start of the World Cup against Honduras.

France's Yohan Cabaye added: "We will miss him, also his passion and humor. But we must stay motivated and believe in our goals as if he were there with us."

France kick off their Group E campaign on June 15 against Honduras. They also take on Ecuador and Switzerland in the group.

Related Stories: