Crosby, Stills, and Nash at Tollwood, 1 July 2013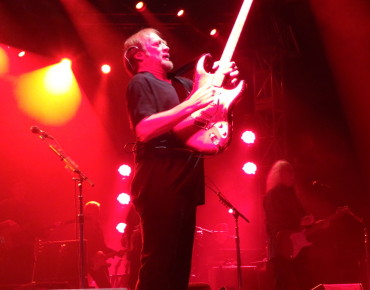 Crosby, Stills, and Nash at Tollwood
1 July 2013
A wonderful night under the big tent with three of the all-time greats. As Graham Nash said at the very beginning, "May well be that we are older than most of you. But we are not dead!" With that, a huge cheer rose from the crowd and the band launched the show with "Carry On/Questions" and continued through two sets worth of material that combined new and old in a seamless way.
Stephen Stills, always a guitar god, took it even further on the big white hollow-body Gretsch and seemed to be having a great time doing it. Graham hit the high parts, and when he, and the others in turn, had a tough time with notes more than forty years old, they somehow made it work.
The terrific five-piece backing band — which Nash notably described as "the finest band we've ever played with" — included Steve "Stevie D." DiStanislao on drums, Kevin McCormick on bass, Shane Fontayne on guitar, and David Crosby's son James Raymond on keyboards.
A spirited version of "Suite: Judy Blue Eyes" ended the show, with the crowd happily standing, dancing, singing, "do do do doo-ing" and remembering a time much different than now.
David Crosby was the highlight of the show - looking other-worldly with his wild white hair, breeze-blown in the smoky stage lights. Graham and David harmonizing on Guinnevere is as good as it gets.
Check here for videos of each song on the setlist.
Set List
1st Set
Carry On/Questions
(Crosby, Stills, Nash & Young cover)
Military Madness
(Graham Nash song)
Long Time Gone
Just a Song Before I Go
Southern Cross
Lay Me Down
(Crosby & Nash cover)
Our House
(Crosby, Stills, Nash & Young cover)
In Me
Burning for the Buddha
Bluebird
(Buffalo Springfield cover)
Déjà Vu
(Crosby, Stills, Nash & Young cover)
Love the One You're With
(Stephen Stills song)
2nd Set
Helplessly Hoping
Teach Your Children
(Crosby, Stills, Nash & Young cover)
Treetop Flyer
(Stephen Stills song)
What Are Their Names
(David Crosby song)
Guinnevere
Triad
(Jefferson Airplane cover)
Exit Zero
Cathedral
Chicago
(Graham Nash song)
Almost Cut My Hair
(Crosby, Stills, Nash & Young cover)
Wooden Ships
Encore:
Suite: Judy Blue Eyes

Related Stories: