MCC: That's Munich Cricket, not Marylebone…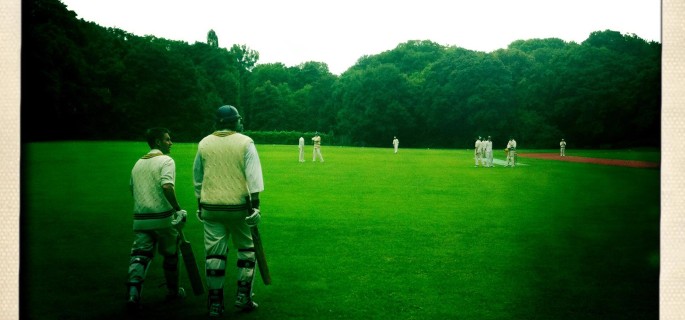 Not in your wildest dreams would you ever imagine when you come to Germany that you'll end up playing cricket. Most ex-pats were in my boat and presumed cricket didn't exist in a land of fine ale, fast cars and fussball. Cricket was allegedly banned by a certain Adolf H. in the 1930s on account of it being 'too British'.
Bizarrely enough, Germany is ranked 'just' outside the top teams in the world, and competes in the ICC Europe Division 1. Cricket here is keenly played by 2,000 hardy souls all across this vast country of 80 million sport fanatics.
My first experience of cricket was having fled from another well-timed, weekend argument with my (ex) girlfriend. I decided to head down to the English Garden on my bike to clear my head. Approaching from the 'Haus der Kunst', I stumbled across a secluded, leafy corner of the massive English Garden (aptly named for cricket) and heard that unique sound of bat on ball; the hard sounding clump of red leather on willow. I even heard a strangled appeal. At least, that's what I thought it was.
This is Germany; it can't be, can it? At first I didn't trust my ears and just carried on cycling aimlessly. And then the sound became more distinctive as I got nearer the action. I saw men actually dressed in varying degrees of 'whites' diving around on a very nice ground. So I went to the ground and watched. Soon enough, I got talking to Munich cricket legend and illustrious chairman Desmond Bradley and that was that. I was hooked.
MCC was founded in 1982 and is one of the oldest cricket clubs in Germany. The club possesses many battle-hardened tourists and recent tours include Italy, Switzerland, Slovenia, Czech Republic, Hungary and even the cricketing outpost of England. The club's touring exploits also made it onto the BBC during a trip to the picturesque Croatian Island of Vis.
The old-timers are always keen to stress that in its cricketing infancy here in Munich, matches were actually played on the vast open areas of the English Garden. A local rule back then meant that a batsman could not be given out if he had been distracted by one of the local 'maidens', who often 'inconveniently' disrobed behind the bowler's arm. Of course, nude sunbathing was and still is quite a popular pastime in Munich.
Apart from organising the first competition – the MCC Knockout Cup – and running the local league for the first few years, the club is a founding member of the Bavarian Cricket League and Deutscher Cricket Bund. It also played a formative role in the initial movements to set up the European Cricket Federation, which subsequently became the European Cricket Council, and now operates under the auspices of the ICC Development Program.
Home games are played at the 'Hirschanger' in the English Garden, arguably one of the most picturesque grounds in Germany. It's just a lofted off-drive from the famous Chinese Tower beer garden. Our squad consists of a nucleus of 25 players from all corners of the globe – especially England and Australia. This was always slightly tricky in the dressing room during Ashes years; perhaps that was where we gained that edge and extra white line fever.
Friday training is also at the Hirschanger, Himmelreichstrasse 5 (4.30pm to 7.00pm). You'll find all the latest cricketing info on the website. Players, umpires, scorers and cricket groupies are always welcome. You can even bring a pedalo to sail down the River Isar after training or more likely after the visit to the beer garden.

Related Stories: