Bayern President Uli Hoeness Likely to Face Trial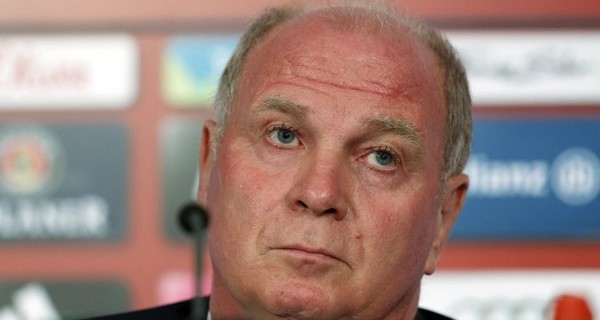 After Bayern Munich's treble-winning season, most pundits agreed that Bayern Munich were the best team in the world. The club were entitled to bask in the plaudits after their historic run of success. The only matter of concern, a massive elephant in the room that might yet unsettle the Bavarian bandwagon, was president Uli Hoeness's on-going tax investigation. Amidst all of the press around the club, this could take some of the gloss off Pep Guardiola's arrival in Munich.
Details of the tax evasion charges against Hoeness were announced by the Munich Public Prosecution office on Tuesday. The 61-year-old is likely to face trial should the Economic Crimes Chamber of Munich's district court decide to hear the charges.
"Given the complexity of the investigation files, as well as the fact that a defence request to delay the case for one month was granted, the decision on any potential trial start date is not expected before the end of September 2013," court spokeswoman Andrea Titz said in a statement.
Hoeness, a World Cup winner with Germany in 1974, made a voluntary declaration to the tax authorities in January, where he admitted filing amended tax returns. He also revealed a Swiss bank account, where, according to several sources, he has allegedly 'parked' millions of Euros generated from stocks and shares.
Despite the investigation, Bayern's Supervisory Board have repeatedly stood by Hoeness, refusing to bow to public pressure for Bayern's top man to resign. Members of the board include high-profile figures from club sponsors Adidas, Volkswagen, Audi and Deutsche Telekom. If a scandal of this magnitude emerged at such public companies, it would perhaps be considered a given that this was a resignation issue.
A controversial and often outspoken figure in the German sporting world, Hoeness is very much the heart and soul of the Bavarian club. 'Ulrich H.' has overseen Bayern's transformation into a world super power on the footballing stage. Hoeness was a successful player with the record German champions until his career was curtailed by injury in 1979. He then relaunched himself as the club's general manager and has played a major role in transforming Bayern into a global brand ever since. Now, as club president, he remains a powerful voice and figurehead for Bayern. Away from football, Hoeness, a butcher's son, co-owns a Nuremberg-based Bratwurst factory. HoWe Wurstwaren KG make their millions supplying outlets such as Aldi and McDonald's.
Undoubtedly, with the Bundesliga season around the corner, the heat on Hoeness to resign will intensify. Moreover, there is little doubt that this high-profile case will be used as a political football in the coming weeks. It is, after all, an election year in Germany. The Germans go to the polls on September 22nd and tax matters remain a highly emotive issue.

Related Stories: