Football Days In and Around Munich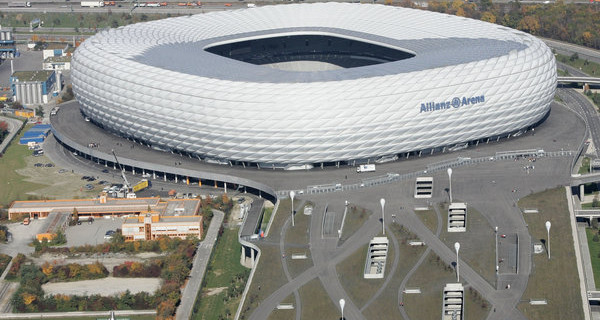 Bayern Munich have just come off an incredible treble-winning season and, with the appointment of new manager Pep Guardiola, are one of the most followed sides in both Germany and the world. Tickets are in high demand for the defending Bundesliga champions so be sure to try online, on the phone and your Munich-based friends!
They are not the only top-flight club in the area though. FC Augsburg staved off relegation last year and they are only an hour's drive (45 minutes on the train) from Munich. A bit further afield (closer to two hours) are 1. FC Nuremberg, but the chance to see Bundesliga football and one of Germany's most famous cities has the makings of a great day out.
If it's lower league, and a much small trip (20 minutes from central Munich on the S-Bahn), you are looking for then SpVgg Unterhaching are your answer. The third-division team have an intimate 15,000 capacity stadium and are currently labelled "the brother's club" with Jonas Hummels (brother of Mats) and Fabian Goetze (brother of Mario) in the squad. Ticket prices range from €8 (standing) to €18 (under the main-stand roof).
FC Augsburg
vs FC Malaga
(preseason friendly)
27 July 2013 at 15:30 CET
vs Borussia Dortmund
(Bundesliga opener)
10 August 2013 at 15:30 CET
vs VfB Stuttgart
(Bundesliga)
25 August 2013 at 17:30
vs SC Freiburg
(Bundesliga)
14 September 2013 at 15:30

FC Nuremberg
vs Hertha BSC Berlin
(Bundesliga)
18 August 2013 at 15:30
vs Augsburg
(Bundesliga)
31 August 2013 at 15:30
FC Bayern Munich
Telekom Cup
(Hamburger SV, Borussia Moenchengladbach, Borussia Dortmund)
20 July 2013-21 July 2013
vs Barcelona
(Uli Hoeness Cup - sold-out as of June 7th)
24 July2013 at 20:30 CET 
Audi Cup
(AC Milan, Manchester City, Sao Paulo FC – tickets still available)
31 July 2013-01 August 2013
vs Gladbach
(Bundesliga opener)
9 August 2013 at 20:30 CET
vs 1. FC Nuremberg
(Bundesliga)
24 August 2013 at 15:30
vs Hannover 96
(Bundesliga)
14 September 2013 at 15:30
SpVgg Unterhaching
vs Chemnitzer FC
(League game)
27 July 2013 at 14:00
 vs SV Darmstadt 98
(League game)
17 August 2013 at 14:00
vs 1. FC Saarbruecken
(League game)
31 August 2013 at 14:00
vs Hallescher FC
(League game)
7 September 2013 at 14:00

Related Stories: