The Clash to Release New Box Set of Remastered Albums and Rarities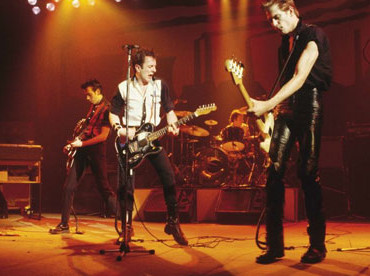 Michael Hann
guardian.co.uk, Tuesday 21 May 2013 08.01 BST
Sound System set to be accompanied by best-of album, sequenced to copy a 1982 Brixton show
The Clash are to release two new compilations in September – including a box set designed by bassist Paul Simonon to replicate an 80s boombox. Sound System will contain remasters of the band's first five albums, from The Clash to Combat Rock, plus three CDs of singles, rarities and demos, and a DVD containing previously unseen footage, plus reprints and a new edition of the band's Armagideon Time fanzine.
"The concept of the whole thing is: best box set ever," Clash guitarist Mick Jones – who oversaw the remastering – told the Guardian.
"Remastering's a really amazing thing. That was the musical point of it all, because there's so much there that you wouldn't have heard before. It was like discovering stuff, because the advances in mastering are so immense since the last time [the Clash catalogue] was remastered in the 90s."
All the music has been remastered from the original tapes, Jones said. "We had to bake the tapes beforehand – the oxide on them is where the music is, so if you don't put them in the oven and bake them, that all falls off, because they're so old."
Bassist Simonon highlighted a guitar line on Safe European Home, from the band's second album Give 'Em Enough Rope, saying he'd never even heard it before. "It's probably some session musician, while I was asleep," Jones joked.
Sound System is accompanied by The Clash Hits Back, a 33-track, two-CD best-of sequenced to copy the set played by the band at the Brixton Fair Deal – now the Academy – on 19 July 1982, rounded out with big numbers that failed to make the set that night.
The Fair Deal was a special venue for the Clash, Simonon told the Guardian, because of the memories the venue held as the cinema he and Jones went to as children. "It's actually where I saw my first ever pop show," Simonon said. "We all turned up as 10-year-olds, and they said: 'Right, boys and girls, we've got a special surprise for you - we're not going to show you a film!' So everyone was: 'Booooo.' 'No. we've got a special surprise – we have Sandie Shaw!' And Sandie Shaw came on, and she was going on about not having any shoes. So we had an hour set from her, and that was my first pop concert."
Both sets will be released on 9 September. The full interview with Mick Jones and Paul Simonon will be published in the Guardian on 24 May.
The full tracklisting for The Clash Hits Back is:
Disc 1
1. London Calling
2. Safe European Home
3. Know Your Rights
4. (White Man) In Hammersmith Palais
5. Janie Jones
6. The Guns of Brixton
7. Train in Vain
8. Bankrobber
9. Wrong 'Em Boyo
10. The Magnificent Seven
11. Police on my Back
12. Rock the Casbah
13. Career Opportunities
14. Police & Thieves

15. Somebody Got Murdered
16. Brand New Cadillac
17. Working for the Clampdown
Disc 2
1. Ghetto Defendant
2. Armagideon Time
3. Stay Free
4. I Fought the Law
5. Straight To Hell
6. Should I Stay or Should I Go?
7. Garageland
8. White Riot
9. Complete Control
10. Clash City Rockers
11. Tommy Gun
12. English Civil War
13. The Call Up
14. Hitsville UK
15. This Is Radio Clash
Related Stories: