The Contestants at a Glance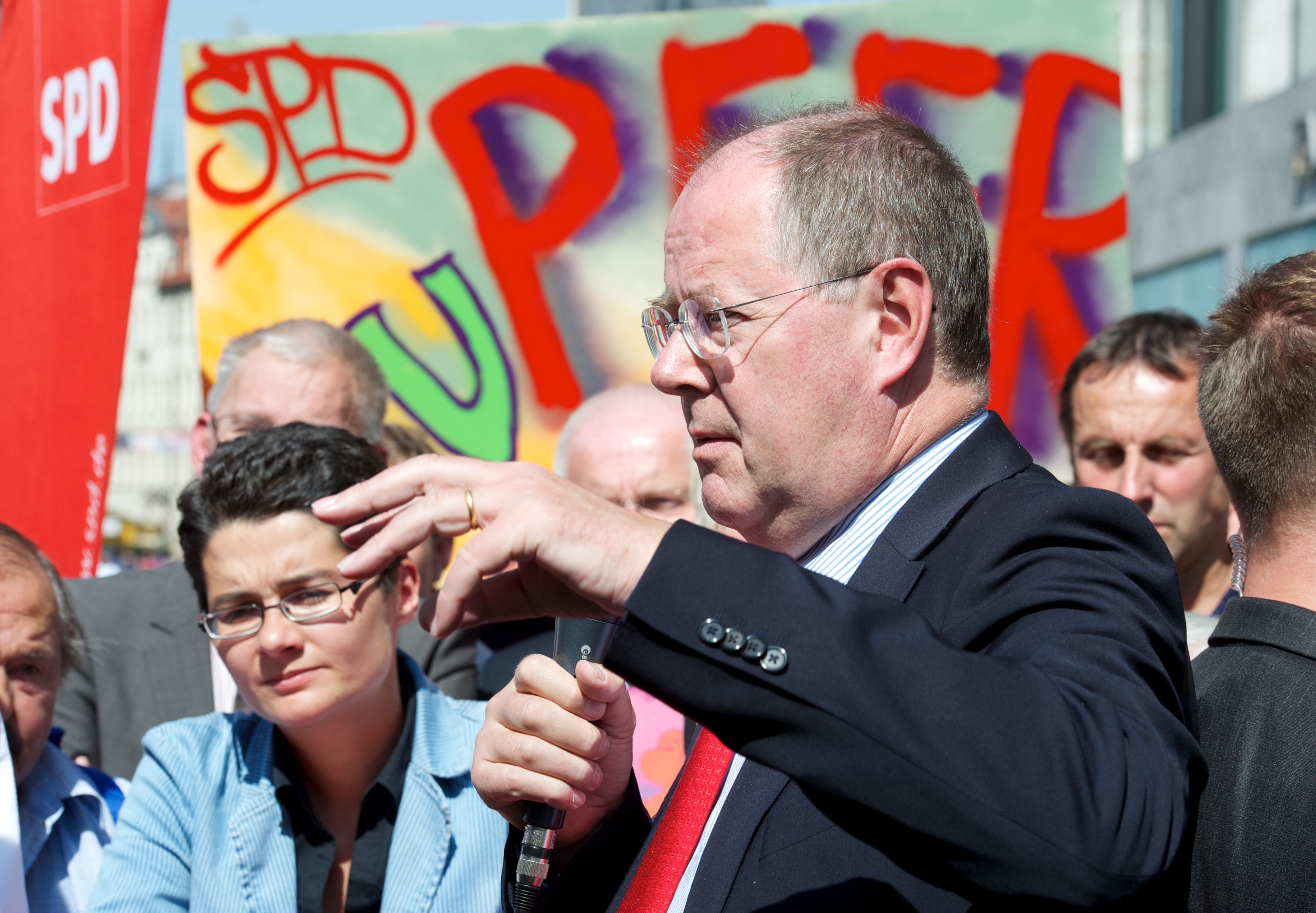 The Challenger at a Glance
Name: Peer Steinbrück
Position:  Deputy-chairman for the Social Democratic Party (SPD), Member of Parliament (MP), and the candidate selected by the SPD to run for chancellor of Germany in December 2012.
Early Life:  Born in Hamburg on January 10th, 1947. Served two years in the Bundeswehr (German Army), discharged as an officer in the reserve. Graduated in 1974 from Christian-Albrechts University in Kiel, where he majored in economics and had a minor in social science.
Family:  He married Gertrud Isbary in 1975; they have two daughters and a son.
Political Career:  Worked in Ministry of Transport, Building and Urban Development, and the Ministry of Education and Research; economic advisor for chancellor Helmut Schmidt;  head of the Ministry of Economy and Infrastructure in Schleswig-Holstein, and North Rhine-Westphalia (NRW); NRW's finance minister; Minister President (governor) of NRW from 2002 to 2005; became Angela Merkel's Finance Minister in November, 2005; became MP in the Bundestag (German Parliament) in 2009.
The Chancellor at a Glance
Name: Angela Dorothea Merkel (nee Kasner)
Position:  Chancellor of the Federal Republic of Germany since 2005; Chairperson of the Christian Democratic Union (CDU) since April, 2000; Member of Parliament (MP) since 1990.
Early Life:  Born in Hamburg, on July 27th, 1954. Grew up in GDR (East Germany), near Berlin. Her father was a Protestant pastor and theology teacher. Family had two cars and could travel freely between the GDR and West Germany. Merkel excelled in mathematics and Russian, only graded as 'pass' in Communism courses. Studied physics at the University of Leipzig (1973-78), and physical chemistry at the Academy of Sciences, earning a doctorate.
Family: Married twice. Ulrich Merkel (1977-1982), Joachim Sauer (1998-present). She has no children; Dr. Sauer has two sons.
Political Career:  Elected Member of Parliament (MP) from Stralsund-Nordvorpommern-Rügen;  in Helmut Kohl's 3rd cabinet, Minister for Women and Youth, promoted to Minister for the Environment and Nuclear Safety; in 1998 with Kohl's defeat, became the Secretary General of the CDU; lost to Bavaria's Edmond Stoiber from the Christian Social Union (CSU, sister party of the CDU) for chance to unseat Gerhard Schröder, later beat Schröder in 2005; went into a 'grand coalition' with SPD; won reelection in 2009, made coalition with FDP.
Related Stories: