Chancellor Angela Merkel's Coalition Retains Lead in Opinion Polls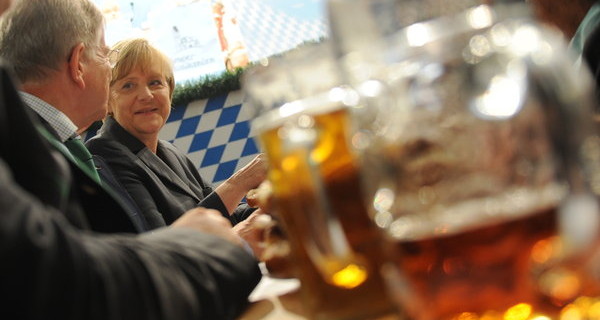 Berlin (dpa) - Chancellor Angela Merkel's coalition retains a narrow lead in opinion polls before an election next month, despite an admission by a minister this week that Greece would need another bailout.
A poll published Friday by public broadcaster ZDF found support for Merkel's Christian Democrats (CDU) stable at 41 per cent. Support for the Free Democrats (FDP), Merkel's junior coalition partners rose from 5 to 6 per cent.
The poll was conducted between Tuesday and Thursday this week.
On Tuesday, Finance Minister Wolfgang Schaeuble disclosed that he expected debt-hit Greece to need a third aid package in 2014 on top of a 240-billion-euro bailout, of which Germany had to pay the lion's share.
There was no change in support for the three opposition parties: Social Democrats (SPD), 25 per cent; Greens, 13 per cent; and Left Party, 8 per cent.
A 47 per cent of votes would yield a safe majority in parliament under German electoral laws. Pollsters warned the margin of error in their numbers meant a win for the CDU-led coalition was still far from certain.
An opinion poll published earlier this month found that 59 per cent of voters consider labour and welfare issues important, but only 39 per cent pay attention to eurozone policy. On labour and welfare, the big parties have broadly similar policies.
The new poll showed 70 per cent of Germans would not be opposed to Merkel dumping the FDP as partner and forming a "grand" coalition with the the SPD: 51 per cent of those polled considered this "good" and 19 per cent were neutral toward the idea.
Merkel remains far more popular than Peer Steinbrueck, the Social Democrat nominated to challenge her, with 63 per cent preferring her as chancellor and only 29 per cent hoping he would take over her job.

Related Stories: