Harding's Hark - The Inside Story: Swarm and Cloud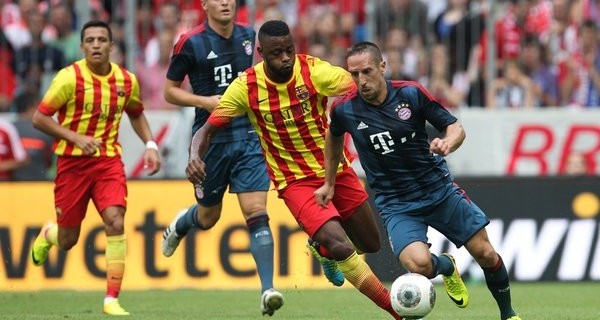 It is hard not to get drawn into the obsessive analytical frenzy that is Bayern against Barcelona. Even in a game played for good intentions, the focus on Lionel Messi's movement, Thiago's passing accuracy (or lack thereof ironically) and Franck Ribery's control, left everyone guessing all over again.
The forgettable second-half aside, some concrete conclusions can be drawn. Positions, as we know them, are not restricting Bayern. Against Barcelona, and as they have steadily done all preseason, Bayern have played beyond the concept of positions. Philipp Lahm was listed as being on the right-hand side of a three-man midfield but regularly appeared in centre midfield. Toni Kroos was sat considerably deeper in midfield than Thiago, even though on the team sheet they were "supposed" to be playing next to each other. What started with overlapping wing backs has now become an overlapping team, and Bayern are the new masters. Even against Barcelona, who at least for the first half looked somewhat like the Barcelona we all know, Bayern's swarm and cloud effect nullified a bemused opposition.
Consistent, individual quality makes the collective all the more impressive/intimidating. Franck Ribery, both on the wing and down the centre of midfield, was tormenting Barcelona's defenders. His constant change of movement, whilst retaining control of the ball, opened up space as he glided across the pitch. Xherdan Shaqiri also showed similar signs of it when he came on; Ribery's quality is two-fold for Bayern. The Frenchman drew two yellow cards from frustrated Barcelona defenders who had no idea how to stop him. Expect him to draw a lot more cards this season.
Although excellent in the Telekom Cup, Thiago looked sloppy in the opening 20 minutes against his former side; perhaps he was a little nervous. This dip in form we can ignore. Both his range (passing) and his vision are incredibly advanced for some only 22 years of age. He is set to be one of, if not the, most exciting player of the 2013/14 season.
One thing Bayern will have to figure out for that season is their passing variation. In the Telekom Cup they littered the box with airborne crosses, and it was a fairly similar story against Barcelona. They proved successful, but how effective is flooding the box with aerial passes when the playing style focuses on quick, short passes and a false nine is (covertly) leading the line? Lower, drilled crosses seem more preferable – see Mandzukic's goal. Either way, both the delivery and those delivering will interchange, as is Guardiola's style.
"Philipp Lahm is a full back," said Pep Guardiola after the game in response to his captain being deployed in midfield. As much as that is true, in Guardiola's Bayern full back is a fairly fluid concept.

Related Stories: