Snowboarding Ditches Gangster Style and Straightens Up For 2014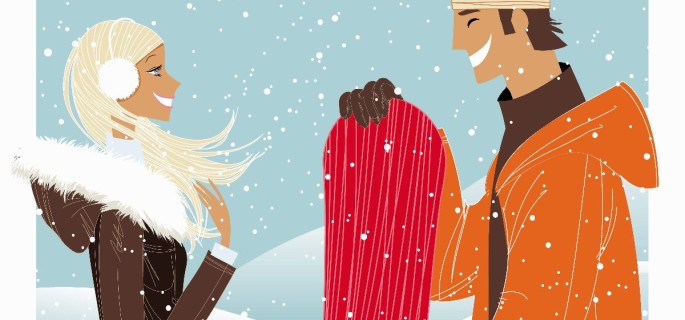 SNOWBOARD FASHION:
Long jackets and straight-cut pants make the hottest silhouettes
Streetwear and Americana inspirations are popular
Colour stories are more muted, natural and mature than previous years
The return of camouflage
Large-gauge cylindrical goggles are on-trend
For years, snowboarders have been the bad boys of the mountain; the hard-partying, hard-riding hoodlums in baggy, low-hanging, brightly-coloured pants. Next year things change; snowboard fashion has done a 180° and grown up, to match the steadily ageing demographic of the sport's participants.
ISPO MUNICH'S 2014 will see snowboard outfits for men and for women trending towards a common cut. Jackets have tailored torsos and with long hems, which sit neatly around the mid-thigh. Pants tend to be straighter and far less roomy than the boxy clichés of more traditional gangster-style cuts. Now they taper around the knees, flaring out to make room for the bulky snowboard boots that sit beneath them.
Styling is a reflection of recent trends in the high fashion, couture and catwalk worlds. Varsity jackets and coach-style button up jackets are popular, inspired by American heritage and vintage workwear. Other themes are snowboard outerwear that looks like streetwear or workwear, and a countertrend of high-tech, minimalist, lightweight outfits that are perfect for handling extreme weather and arduous mountain approaches.
Likewise, in womens' outerwear the college varsity look prevails, with plenty of elastic-hemmed jackets and faux-chambray or faux-melange pants. The streetwear influence on womens' outerwear is strong, with long and fitted down jackets and waxed denim playing a major role here. A fun subtrend is the 'young old fashioned' direction, which sees a subset of 18-24 year old females adopting looks more commonly found on grandparents; fluffy midlayers, woollen gloves and chunky-knit hats. More conventionally, pullover jackets and bib pants remain popular, proving that girls appreciate the extra warmth provided by these pieces.
Colour stories which will be seen on snowboard outerwear at the ISPO MUNICH show are muted hues like gold, forest green, tan, burgundy, aubergine
and dark indigo. Pop colours will be a little more off-tone to match; think firewater, electric lime, safety orange, crimson, sulphur and coral. Patterns match well to these colourways, and there are plenty of camouflage prints making an appearance. Combined with these tonal looks, they look clean, interesting and unique.
Technology in snowboard clothing has taken a big step forward. Most exciting is The North Face's Fuseform construction, that removes seams from garments and allows the manufacturer to blend layers of material together. It's used to add extra tough, abrasion resistant padding to high wear areas without any extra unnecessary weight. Elsewhere, Patagonia have ensured their entire feather supply chain next year meets their Traceable Down standard, which guarantees the waterfowl that contributed to their down jackets were kept humanely.
Helmets are an important accessory in snowboard fashion, and helmet-wearing is considered par for the course in the sport. Next year's helmets are low-profile to minimize the bobblehead look, and use innovative new materials to reduce weight. Clever venting will help riders keep cool and improve goggle exhaust, keeping goggle lenses fog-free.
The most popular goggles are cylindrical models, which are flat and high, offering plenty of peripheral vision without the bug-eyed look found on spherical models. The most modern looking goggles are frameless, with discrete face padding hidden away behind a big lens. A free second lens ships with the best goggles, and switching lenses will be easier than ever thanks to magnetic, clip-close, lever-actuated and quick-release systems. Otherwise, photo-chromic lenses which change colour automatically according to sunlight intensity are popular in the top-end, premium models.

Related Stories: