ISPO MUNICH 2014 to Feature a Variety of New Exibitors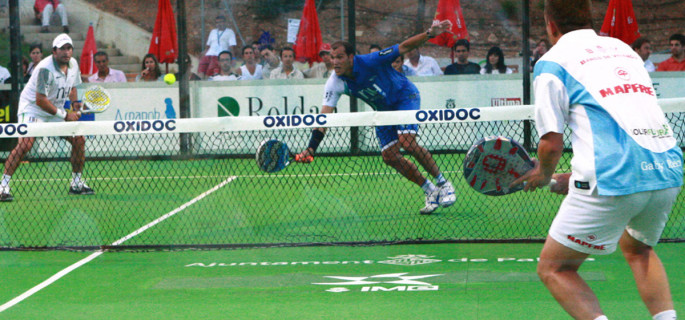 Munich — The leading international sports business exhibition ISPO MUNICH adds a number of new exhibitors to its 2014 lineup: primarily due to the expansion of the Health segment with its own dedicated exhibit hall, and its second new feature, the Padel Tennis Village. ISPO MUNICH is held from January 26 to 29, 2014 at the Messe München exhibit center.
The newly structured Health & Fitness Area (hall C1) provides visiting industry professionals with the opportunity to test and experience products revolving around occupational health management, as well as athletic footwear and game consoles. The following exhibitors will be on site for the first time: Funs Fitness, RFE International, T-Systems, TRX und Trigger Point, Spinning and Zebris Medical.
Padel is a sport derived from tennis, played on smaller courts with shorts rackets, in doubles, four players per court. It originated in Latin America, but has now also conquered Europe, and is a very popular racket sports particularly in Spain. The discipline distinguishes itself with its dynamic character and tactics. Experience Padel Tennis live at ISPO MUNICH. Professional players will compete against each other daily on the Padel Court in hall B4. The nearby Padel Tennis Village will host brands like Babolat, Bullpadel, Drop Shot, ENEBE, Mystica, Nox, Padel 10 and SPORT EQUIPALIA and their exhibits of apparel, equipment and accessories. In addition, the German Padel Association and the Padel World Tour offer information on this trend sport.
The new exhibit areas are not the only sectors in which ISPO MUNICH gained several new first-time exhibitors – newcomers include: CR7 Underwear (Cristiano Ronaldo), Dachstein, Desigual, Dreimaster, Marchon with Nike Vision and Dragon, Protest and Only Play.
About two months before the exhibition opens its doors it is already becoming apparent that the event will continue its streak of success from the prior year. The international leading sports business exhibition expects more than 2,400 exhibitors from over 50 countries at its 2014 edition, presenting the entire bandwidth of sporting goods and sports fashions from the segments Outdoor, Ski, Action Sports, Performance, Health and Fitness on more than 180,000 square meters of exhibit space.

Related Stories: