Harding's Hark - The Inside Story: 2-2 Draw Flatters Lacklustre 1860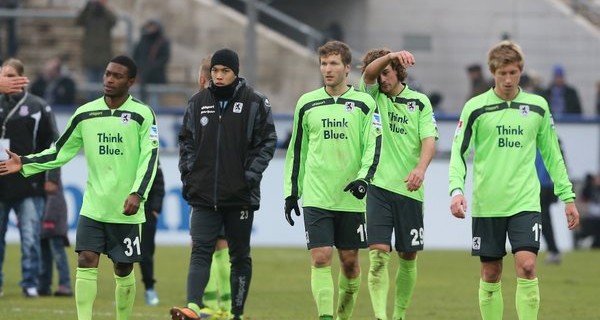 Despite having a man advantage for the second half, TSV 1860 München were fortunate to come away with a point after their 2-2 draw with FSV Frankfurt. Having gone a goal down, Moritz Stoppelkamp equalised from the spot after the referee sent off Frankfurt's defender Manuel Konrad, showing him his second yellow card. In the second half, Frankfurt took their chance to go ahead before a last-gasp equaliser from Stoppelkamp, 1860′s best player on the day.
This season, 1860 have been guilty of playing good in patches but not for long enough. They've been carried by the sporadic individual performance, Dominik Stahl the best example of late, or by poor play from their opponents, this weekend Frankfurt themselves were perhaps the reason 1860 ended up with a point. There has perhaps not even been a convincing 90 minutes of football from 1860 this season.
1860's biggest issue this season has been their lack of attacking threat. 16 games without a goal for the once goal-ridden Benjamin Lauth has neutered 1860's central outlet. Daniel Halfar's absence is also noticeable, particularly as more pressure has been put on Mortiz Stoppelkamp as a result. There are now very few creators in this 1860 team and that has made creating, let alone scoring, chances difficult.
Against Frankfurt, a side second bottom of the table, sadly more evidence was brought to the stand accusing 1860 of a lack of offensive creativity. Having conceded from an unfortunate deflection from a set-piece, 1860 gradually became the second best team on the pitch. No Stahl was an all too evident problem, and as exciting a talent replacement Stefan Wannenwetsch is, the young midfielder is still very raw.
The 4-1-4-1 formation also looks questionable, with Kai Bülow suffering the most. Too often the defender is guilty of drifting into the defence or looking lost in attack, and then 1860 lose their stability. His best game this season came against Borussia Dortmund in the cup, and although the occasion might have played a role, it's strong evidence to support where he should be.
Every 1860 attack was scrappy - shots were blocked and space was not being sought often enough. Then, perhaps undeservedly, 1860 were level, and had an advantage. Konrad saw his second yellow card for an extended arm in the area, and when Stoppelkamp scored from the resulting penalty, it was suddenly 1860's game to lose.
The expected increase in possession followed in the second 45 minutes, but the visitors struggled to break down an even deeper-sitting Frankfurt side. Lauth missed a glorious close-range chance to give Funkel's men the lead, but the bigger issue was that it had taken 20 minutes to create the chance. Stoppelkamp hit the bar from a free kick on the edge of the area and 1860 seemed to be edging ever closer to that second. Ah. That could only mean one thing, and with disparaging familiarity, 1860 found themselves 2-1 down moments later. Bülow gave a needless free kick away and Zafer Yelen converted from distance. Frankfurt's goalkeeper Patric Klandt pulled off a fine, diving save to deny substitute Stephan Hain as 1860 (finally) huffed and puffed. It looked like it would be in vain. And for the second time in the game, they found themselves level, unsure of why. Moritz Stoppelkamp's low shot crept into the corner to seal a point that, although never looked like being, should have been three.
However, 1860 are fortunate. The 2. Bundesliga is currently suffering from a consistency epidemic, which in turn has made the league more open than ever before – only six points separate fourth and tenth. The chance still remains, if good form can be found, to realise their promotion challenge. But today's performance flatters to deceive.

Related Stories: