Munich Set for Another Kind of Title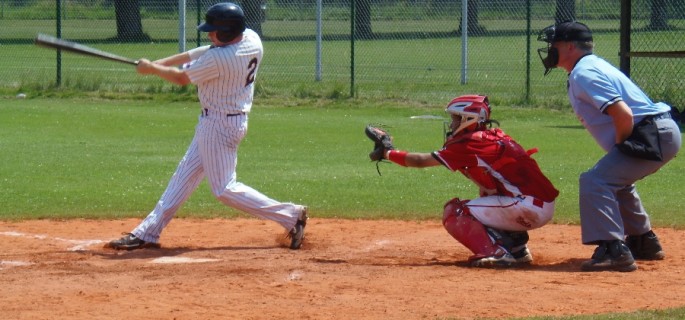 The Haar Disciples picked up a crucial win away at Tubingen on the weekend, bolstering the club's chances for a post-season playoff berth. A chance to get a second win against the last-placed Hawks was dashed when the game was cancelled after the field was pounded by golf ball-sized hailstones.
The 8-3 victory improved Haar's record in the 1. Bundesliga South to 13-8, stabilising the club's hold on fourth place. Fifth-placed Stuttgart Reds are 11-11 and Haar can clinch the playoff berth this coming Saturday when they host the Reds (1 pm and 3.30 pm).
Haar showed a well-balanced attack with five players – Lukas Steinlein, Mitch Stephan, Chris Ziegler, Bruno Aurnhammer and Kevin Trisl all driving in runs. Meanwhile Steinlein, as pitcher, shot down the Hawks' batters in his seven-innings spell, giving up 4 hits, but no earned runs and striking out 8. Newly-promoted to Germany's national team this summer, Steinlein improved his season record to 4-3.
Baldham Boars lost a pair of games (10-1 and 8-4) away against league-leaders Regensburg Legionnaires's second team in the 2. Bundesliga South. This leaves Baldham at 6-9 for the season but still firmly in fourth place in the seven-team league. The rest of the season looks to be one in which the Boars, back in the 2nd league after a four-year absence, will be preoccupied with avoiding relegation.
In the third-division Regionalliga, the Gauting Indians preserved their slim hopes of a chance at the Regionalliga South-East title with a pair of wins (5-4 and 17-12) against the Stuttgart Reds's second team.
Gauting's Indians improved their record to 11-9, giving them a mathematical chance of overtaking the league-leading Munich Caribes (18-3). All that needs to happen is for the Caribes to lose all seven of their remaining games and for Gauting to win all eight.
One win would see the Caribes clinch at least a tie for top spot at the end of the season; a pair of victories would see the Munich club win their first-ever Regionalliga title, and give them a chance at promotion to the 2. Bundesliga-South next year.
The showdown between the two clubs is this Saturday in the Caribes' ballpark at Oberwiesenfeld/Olympiapark (1pm and 3.30pm).
Caribes player-coach Steve Walker, ahead of the game: "It's quite simple. We want to win both games against Gauting on Saturday and then nobody can catch us. It' time Munich had a chance to celebrate some other championship title than football."

Related Stories: