Stoppelkamp Steals Win for 1860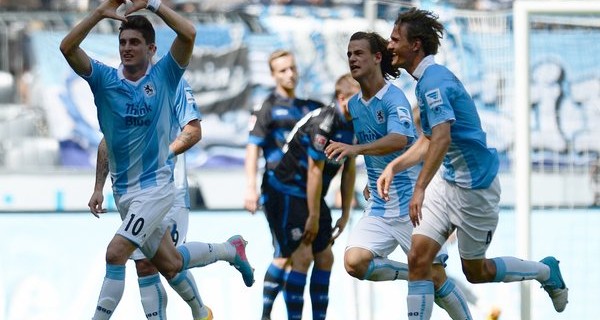 TSV 1860 Munich 2 – 1 FSV Frankfurt

Goals:
0-1 Leckie (53'), 1-1 Lauth (55'), 2-1 Stoppelkamp (90')
TSV 1860 Munich secured their first win of the season thanks to a determined, second-half comeback. Mathew Leckie had given Frankfurt the lead early in the second half, but Lauth and Stoppelkamp battled back to keep the three points in Bavaria.
The game hadn't been underway for more than 30 seconds when former Frankfurt player Yannick Stark found himself in position for a shot just outside the area. His right footed strike narrowly missed the target but fans were hopeful that a good game would lay in store for them.
While they weren't completely disappointed - as the hosts controlled the game - there was a lack of clear-cut chances in the Allianz Arena. Frankfurt were happy to sit back and wait for a counter-attacking opportunity, while 1860 struggled to find a gap and get some shots on target.
The second half proved much more exciting. Six minutes in, and Hain set up Stoppelkamp outside the area. His shot went just inches wide of the top corner. Had it been on target, Frankfurt keeper Hain looked beaten.
Two minutes later, and completely against the run of play, Frankfurt took the lead. Teixeira passed the ball to Leckie, who took a shot from roughly 18 yards. The strike was deflected by Kai Buelow, leaving Gabor Kiraly no chance as the ball sailed over him into the back of the net.
1860 responded in a furious manner after conceding. First, Stoppelkamp had a shot on target but was once again denied before, seconds later, he found himself inside the area closing in from the left hand side. Instead of shaping a shot to the far corner, he simply crossed the ball to teammate Lauth, who slotted home.
1860 were back in control of the game and looked to take the lead. But just when it appeared that both teams had settled for a 1-1 draw, it was again Stoppelkamp, by far the most active player on the pitch, who took matters into his own hands and fired home with a low strike from outside the area. It was a much celebrated, late winner for the hosts, as they picked up their first three points of the 2. Bundesliga season.
1860 Munich: Kiraly – Volz, Vallori, Schindler, Bülow – Y. Stark, D. Stahl (73′ Adlung) – Stoppelkamp, S. Hain (58′ Tomasov) – Lauth, Wood (63′)
FSV Frankfurt: Klandt – Huber, Schlicke, Oumari, Teixeira – Konrad – Roshi (61′ Heitmeier), M. Görlitz, Kauko (64′ Kandziora), Leckie - Kapllani (79′ Ziereis)
Yellow cards: Adlung - Konrad, Zierreis
Attendance: 16,500
Referee: Marco Fritz

Related Stories: