Regensburg Control Bavarian Derby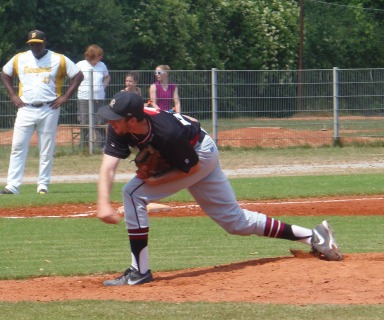 The Haar Disicples played tough, but the Regensburg Legionaires played a bit tougher, as Haar fell twice to the defending champions, 4-0 and 6-3, in the "Bavarian Derby" of German baseball's 1. Bundesliga-South on the weekend. Regensburg, German champions the last three years and with a roster of some of Germany's best players plus top-quality foreigners, are used to running over opponents. On Saturday though, the Disciples made them scratch and claw for every run.
The first game was scoreless through five innings as Haar's young pitcher Lukas Steinlein went toe-to-toe with Dutch veteran hurler Mike Bolsenbroek. Regensburg finally got on the board when Michael Weigl drove in a run in the sixth inning. Good Haar infield defensive work cut down another runner at the plate to prevent a further run that inning.
Regensburg were relentless, and with Steinlein tiring, they got two more runs in the seventh inning, one enabled by a fielding error in the outfield. It was Haar's only error of the game, but Regensburg made sure, as good sides do, to take advantage of it in a close game. Regensburg's final run in the eighth inning was a classic "small-ball" production - scoring without getting a hit. The first batter, Enzo Muschik, walked. He was moved to second on a sacrifice bunt, reached third on a wild pitch and then came home on a sacrifice fly by Richard Klijn.
A flyout ended the inning and that was the end of the day for Steinlein, who had thrown 139 pitches in the afternoon heat and ended up giving up just seven hits. He struck out three but walked five batters - two of whom would eventually score. Regensburg pitcher Bolsenbroek  demonstrated why he has been one of the dominant hurlers in German baseball the past few years. He gave up just four hits and notched up seven strikeouts. A good fastball and effective curve ball, combined with changing speeds, kept the Haar batters off-balance for most of the day.
The "complete game" remained beyond him though. After 8-2/3 innings - one out shy of finishing Haar off, he gave up two walks, visibly wilting after 117 pitches in the afternoon sun. As he left the mound, Haar's knowledgeable baseball fans applauded his performance, perhaps happy to see him go? That left it up to relief pitcher Jonathan Eisenhuth to notch the final out, a groundball to the infield, which sealed the 4-0 win.
The story of game two might best be summarized by saying that Haar's American pitching ace Brian Fields wasn't quite able to match the performance of three Regensburg pitchers. Fields went the entire 9-inning distance and gave up four, earned runs on nine hits. He also struck out eight, but some control problems also meant giving up five walks.
For a brief few moments, Haar's home crowd had something to cheer when the Disciples took a 2-1 lead in the third inning. Tony Younis hit a double that brought in Cedric Bassel and Joshua  Petersen who were on base ahead of him with, respectively, a single and a walk. But Regensburg answered immediately with three runs in the fourth inning to regain a lead, 5-2, that they would never relinquish again. The Legionaires' "pitching by committee" worked effectively, with Boris Bokai going four innings, Philipp Hoffschild pitching for three and Justin Kuehn completing the final two innings.
Haar drew the last blood to salvage a bit of their morale. In their final at-bat, Chris Ziegler hit a triple, and he was brought home by the next batter, Yashmany Vidal, on a double, for Haar's third run and a final score of 6-3. Despite the losses, Haar remain in fourth place, now with a 12-8 record. If they defend that spot in the season's final eight games, then Haar will qualify for the post-season championship playoffs once more.
Related Stories: