The Impacts of Thiago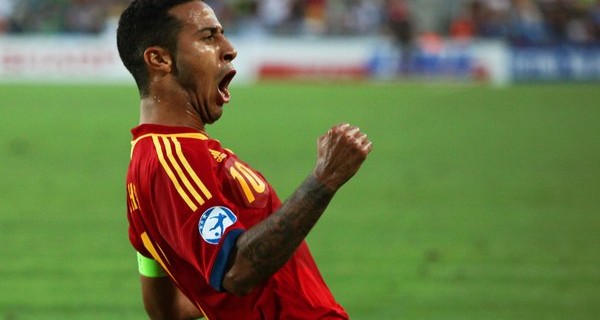 Barcelona midfielder Thiago Alcantara looks set to be the latest recruit for Pep Guardiola's Bayern Munich side as Munich's eventful summer continues. The 22-year-old is expected to arrive next week, if not before, after Guardiola's request has seemingly been answered by the board.
It is rare that a side has such an abundance of midfield talent but Bayern are bursting with it. There's no denying that the 100-capped Barcelona player adds another page to Pep Guardiola's playbook but where and how? The midfielder, who captained Spain's U21 team at the recent European Championship, scoring a stunning final-winning hat-trick against Italy in the process, can play centrally or behind the striker.
So where exactly will Alcantara be parading his new, and unexpected, kit? With Mario Goetze capable of playing the false nine, or attacking midfield if the space-searcher Thomas Mueller is favoured in the world's new favourite position, it seems central midfield is Alcantara's most likely destination. Ignoring Mr. Bayern Munich (Schweinsteiger) is not an option so the pair, at least for this season, could form the deeper midfield partnership.
Despite an impressive first year at Bayern, Javi Martinez looks destined to move to the centre of defence to become the deep-lying defender that Guardiola clearly favours. This does leave the likes of Toni Kroos, Jerome Boateng and Mario Mandzukic in the realms of starting-eleven ambiguity. Despite a late surge of form at the end of last season, the omission of Boateng is perhaps more forgivable. For Mandzukic and Kroos though, it may prove to be a harsh reality.
Kroos, returning from injury, must have known it was going to be difficult but that task has now been made all the more difficult in this bulging Bayern squad. If Kroos isn't deemed the weakest link, then it almost certainly spells the end for Mario Mandzukic's time in the starting eleven. The Croatian impressed so much in his first season at Bayern he effectively started Mario Gomez's transfer negotiations for the club. It wasn't just a return of 22 goals in 40 games either. His effective scampering to aid the defence brought him deserved praise and internal plaudits. Ironically, amidst the commotion of Guardiola's arrival, that seems to have been forgotten as Gomez's spot on the bench draws closer to Bayern's new (now old?) number nine.
No striker? Four defensive midfielders, with one at centre back? Guardiola has hinted at it numerous times since his arrival at Bayern. "The formation isn't the most important thing," most recently stated after the club's 3-0 friendly win over Brescia. Bayern's fluidity of last year is due to reach a whole new level of frightening. Imagine the likes of Alcantara, Schweinsteiger, Goetze, Ribery, Mueller and Robben working as one, formidable red wave…
Guardiola's focus is footballers and football, less so the formation. The intricacies are by no means ignored by this meticulous manager but the aim, nay the expectation, is contributions from each individual in all areas, baffled opposition and another, filled trophy cabinet.
With all of the fixtures Bayern have ahead and the six trophies they could potentially win, Guardiola wants total success to follow his total football. On the back of last season's trophy return and this season's new signings, Guardiola included, there is no indication of anything but that being the case.

Related Stories: