1860 still planning top-flight return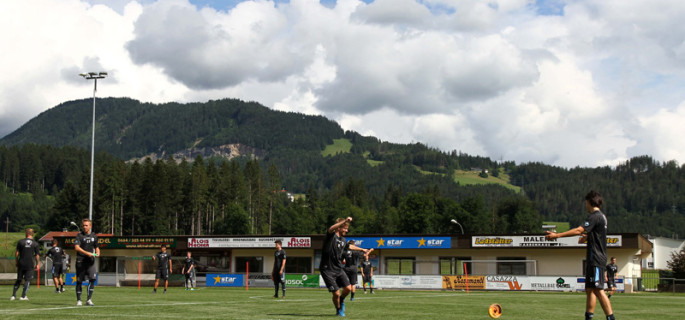 As much as languishing in the second division is not becoming of TSV 1860 Munich, the club have struggled to prevent enough of a case to suggest they deserve to be elsewhere. Issues, particularly away from the field of play, have hampered the club's progression. Ahead of the new season, fans are grappling with the hope of an improved finish and the anxiety of financial investor Hasan Ismaik's next potential move.
Finishing in sixth last year was true to the club's inconsistency and a higher finish this season in such an open league will be a tough task. With the joint top number of draws (13) last season, the key for Alexander Schmidt's men next year will be to hold onto leading positions. Far too often, 1860 dropped points from winning positions, ultimately costing them the nine-point gap on eventual third-placed finishers 1. FC Kaiserslautern.
Goals are also a problem. Only 39 of them in 34 league games was the worst in the top 10 and a total more befitting of relegation strugglers. Former Premier League goalkeeper Gabor Kiraly has certainly kept things tight in defence and although there is obvious disappointment surrounding the expected departure of 25-year-old midfielder Daniel Halfar to Cologne, Schmidt still has reason to be positive approaching the new season.
In typical German fashion, and ironically somewhat in contrast to the desires of Ismaik, the 1860 squad ahead of the new season is young. The standout name is central midfielder Stefan Wannenwetsch. The 21-year-old made 53 appearances for the club's second team before stepping up to the first team last season, and despite only making seven appearances, showed real potential. This is particularly encouraging in light of Greece international Grigoris Makos' departure. The 26-year-old midfielder cancelled his contract over the summer after his time at the club "didn't go as planned."
Speaking about his future in May, he said he had been "left with no other choice." A month later he said that he has "the goal of 1860 playing the same kind of football as Bayern and Dortmund." The ambition in his comments tends to be balanced with a snide undertone. "I've given 30% more than the club is worth," is enough evidence of that. His criticism of the 50+1 rule (the Bundesliga law that means the club must have at least 51% ownership, thus preventing one single entity ruling) is worrying, even if he's not the first to challenge it.
As they have been forced to do far too often in recent years, 1860's squad must now focus purely on the football. With some changes being made in the boardroom and new signings (most notably Daniel Adlung and Stephan Hain) already part of the team, there are plenty of reasons to believe that the club can veer off the path it seemed destined to stay on.
Almost fittingly, 1860's pre-season form has been reminiscent of last year's domestic action. Notable victories over FC Zürich (5-1) and a draw with Dynamo Kiev (1-1) have been balanced with defeats to Jahn Regensburg (3-1) and Terek Grozny (3-0). Next up on Wednesday evening is last year's disappointing Bundesliga side SV Werder Bremen before a trip to Bayer Leverkusen on the weekend.

Related Stories: