Haar Disciples split with Mainz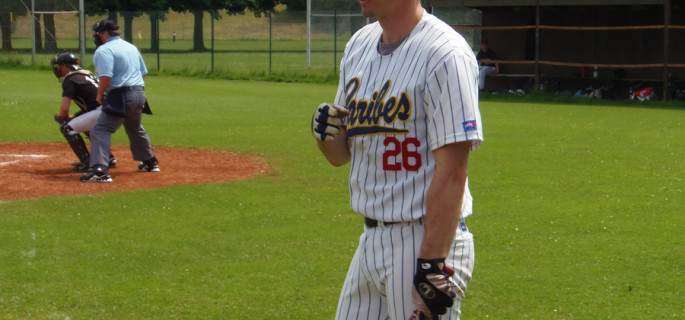 The Haar Disciples "only" achieved a split in their weekend baseball fixture. It was the kind of split though that is making the rest of Germany's baseballing world sit up and take notice. In two riveting contests in the 1. Bundesliga South division on Saturday, fourth-place Haar went toe-to-toe with the top team in the league, the Mainz Athletics.
The visitors won the first game 6- 5 in dramatic come-from-behind fashion but the Disciples won the second, turning the tables to fight back from an early deficit of their own to win 6-3. Having already amassed 17 victories, this was only Mainz's third defeat this season. Haar's record stands at 12-6 losses, which gives them a solid hold on fourth place, a spot that would give them a chance at reaching the post-season championship playoffs.
For those who may want to get a look at both the Disciples and the future of Germany's national team, then they should go to Haar on Monday evening. There, starting at 6:30 CET, the Disciples will host the German junior national team in a warmup game as the German youngsters get ready for the Junior European Baseball Championships in Prague (July 14-20).
Among other attractions, the German team's roster includes two teenagers who have recently been signed up by Major League Baseball teams: Outfielder Julsan Kamara (Philadelphia Phillies) and pitcher Sven Schüller (Los Angeles Dodgers). Tellingly, both 17-year-olds are attending a baseball boarding school in Regensburg and playing for the Regensburg Legionaires' second team in the 2. Bundesliga South. Both will first continue their studies to get their Abitur diploma next year before heading across the Atlantic to start their careers in professional baseball in America, beginning their journey in their respective MLB teams' Minor League franchises.
On the subject of German baseball and the MLB, history was made earlier this summer when Donald Lutz - also a product of the Regensburg baseball academy - was called up to play for the Cincinnati Reds, becoming the first-ever German player to make it to "The Bigs." Lutz was called on to fill in while a number of Reds' players were out of action with injuries, but his stay lasted longer than many expected as he was kept on the main roster even when other players returned from injury.
After about six weeks and after posting some respectable, but far from spectacular, batting statistics,  the 24-year-old Lutz was sent back down to the Minors, in this case the Reds' Double-A level farm team Pensacola Blue Wahoos, to hone his skills further. Lutz vows he'll be fighting to make his way back up to the Majors again. One thing is guaranteed though: He has the absolute support of the German baseball community. His every hit, and his first (and so far only) home run was celebrated by fans and posted on Facebook and other social media outlets around Germany.
45 talented European baseball players will be coming to Regensburg for the first two weeks of August for an MLB training camp. There, coaches and talent scouts of MLB teams will be putting the kids through their paces. Who knows, there might just be a few more signings of youngsters with their dreams set on making it to "The Bigs."

Related Stories: