X Games Munich Ends with Medal Record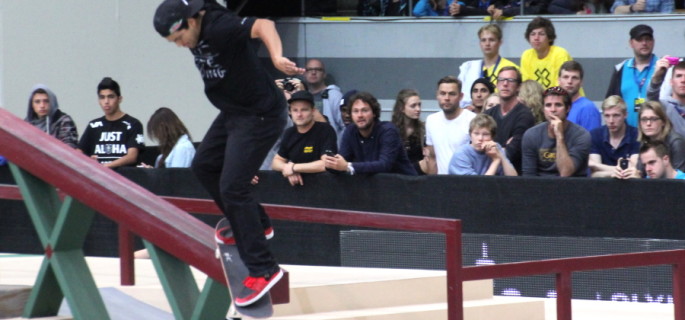 Multiple athletes entered the record books on the fourth and final day of X Games Munich. In addition to the first year that mountain biking was included in the games, slopestyle Bob Burnquist made ​​his fifth consecutive gold medal for attention. No other athlete has won as many X Games medals as the Brazilian.
MUNICH - On Sunday, the sun finally came out and drew 55,000 fans to the event site for the last day of the X Games Munich. This led  the inhabitants of the Bavarian metropolis to set a new record of their own - never before have so many people attended a live X Games event in one day outside of the United States. Over the four-day event, the organizers counted a total of 119,000 visitors.
With Skateboard Big Air,  fans were able to experience a historic moment: Bob Burnquist's skating victory brought his total to 25 medals at the X Games - a new record. His switch backside 540 ollie over the gap was clearly one of the highlights of the X Games Munich. Second and third places went to Elliot Sloan and Tom Schaar, respectively.
In the finale of the Ford Rallycross Race Two, Toomas Heikkinen won against Liam Doran and became the youngest driver in history to win Rallycross Gold at the X Games. Doran, who triumphed on Saturday at Ford Rallycross Race One, landed in second place ahead of Tanner Foust at number three.
The X-Games premiere of the mountain bike slopestyle discipline was moved to the evening due to strong wind gusts. However, Brett Rheeder was not unsettled by the time change and, with a flawless second run, secured his first gold medal at the X Games. Silver medal winner Brandon Semenuk only lost by only a few tenths. Third place went to Andrew Lacondeguy.
Chris Cole prevailed in a thrilling final in the discipline of Street League Skateboarding. After solid performances in "Flow" and "Control," the American achieved a score of 9.0 for "Impact". Cole thus secured his first X Games victory in the discipline of Street League Skateboarding and his overall third gold medal at the X Games.
Robert Taylor duped a strong field at the Men's Moto X Enduro X, including Martin Brown Field, the gold medalist at the X Games in Barcelona, ​​and, surprising many, Taylor confidently took his first X Games victory. In second place was Brandon Gomez, whose sister Sandra Cantero Gomez landed second in the discipline of Women's Enduro X behind the winner Maria Forsberg, with silver medalist Laia Sanz finishing in third place.
Results:
 Street League Skateboarding finals
Gold Medal: Chris Cole (USA) 51.30 points
Silver Medal: Paul Rodriguez (USA), score: 43.30 points
Bronze Medal: Luan Oliveira (BRA), score: 41.10 points
Skateboard Big Air finals
Gold Medal: Bob Burnquist (BRA), 89.33 points
Silver Medal: Elliot Sloan (USA), 85.83 points
Bronze Medal: Tom Schaar (USA), 85.33 points
Mountain Bike Slopestyle finale
Gold Medal: Brett Rheeder (CAN), 97.33 points
Silver Medal: Brandon Semenuk (CAN), 96.00 points
Bronze Medal: Andreu Lacondeguy (ESP), 77.33 points
Red Bull Phenom Mountain Bike Slopestyle finale
Gold Medal: Anton Thelander (SWE), 92.66 points
Silver Medal: Tom van Steenbergen (CAN), 81.33 points
Bronze: Matt Jones (GBR) 78.00 points
Ford Rallycross Final Race Two
Gold Medal: Toomas Heikkinen (FIN), Time: 7:01.626
Silver Medal: Liam Doran (GBR), Time: 7:06.068
Bronze Medal: Tanner Foust (USA) Time: 7:11.234
Women's Moto X Enduro X Final
Gold Medal: Mary Forsberg (USA) Time: 8:12.407
Silver Medal: Laia Sanz (ESP), Time: 8:32.616
Bronze Medal: Sandra Gomez Cantero (ESP), Time: 8:41.825
Related Stories: