Guardiola spotlight still bright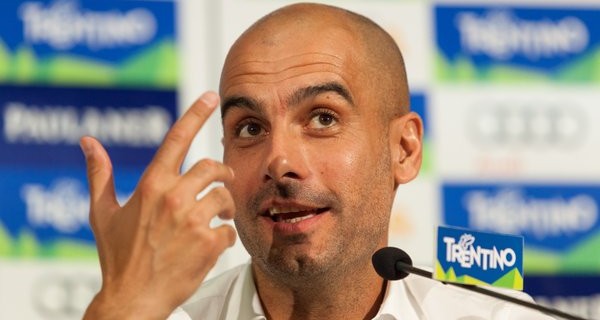 Four days is quite a long time in Pep Guardiola's world. Seeing his face again at Bayern's training-camp press conference in Trentino on Thursday afternoon was almost a relief. Ever since he charmed his way through his official unveiling, most of Munich has fallen in love with the man in charge of their most successful team.
After hardly any time "in the job," Guardiola revealed, in admirably strong German of course, "A week in and my first impressions are very good. I've noticed how intelligent the players at Bayern are. That's why they've been in three Champions League finals in the last four years."
The primary part of Guardiola's job is to consistently make appearances in finals finish victoriously. Having a squad full of talented players helps but add the footballing brain that Guardiola so often speaks of and you really can understand the excitement surrounding this team. "Arjen Robben is a particularly intelligent player. He's a gift for me." A gift that was prone to selfish tendencies last year, something Guardiola may well fine tune.
"The fans pay money for their tickets and we want to reward them with goals." Even if no further signings are made, there is little doubt that Bayern's attack will repeat the same impressive scoring feats of last season. Their possession will be just as high, if not more so, and defensively they will be just as tight.
In a sense, not that much will change. Tactically, it remains to be seen what his preference will be. Three at the back
and/or potentially three banks of three have been the subject of much speculation. The 4-2-3-1 formation has not only become Europe's favourite but evidently worked for the treble-winners last year and will also be considered.
One thing to consider will be the relationship between the new manager and the driving force that is Bayern's sporting director. Sammer's comments earlier in the week about this new era being "a process" were purposefully met by the Spaniard. "I respect Matthias' remarks but this is a big club and at a big club, you don't have time. You must work well right from the start."
He need not be concerned with the bond he has made with his players though. That is growing and the charming linguist has seemingly balanced the professional with the friendly well. "My players are my German teachers. That's the best lesson for me. I don't have time for external lessons anymore."  Ultimately, the only disappointed party will be a certain German teacher in North Rhine-Westphalia.
"I want to stay here a long time. I don't want to just teach but I want to be taught as well." The Roman philosopher Seneca said, "While we teach, we learn." The ambitious treble-winners will be keen to listen, as will Guardiola who will be privy to the intricacies that his former employers wished they knew. His Bavarian must be getting better too.

Related Stories: