Caribes Stay on Course for League Title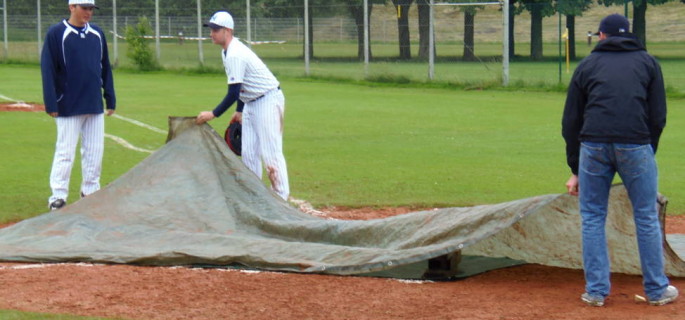 Only one Munich-area baseball team from among German baseball's top three leagues saw action at the weekend. The Munich Caribes won two games and added pressure to their quest for a first-ever Regionalliga (3rd division) title. Before the game though, they first had to pass a test of another sort: groundskeeping.
The Caribes' hardest work on Saturday was not so much downing their opponents, the Ingolstadt Schanzer by 11-1 and 13-2, but rather in doing battle against the elements.
Several hours before the game at the Caribes home field in the Olympiapark, ballplayers were out doing groundskeeping duties to try to get the field in playable condition after overnight rains had once again swamped some parts of the infield. Wheelbarrow after wheelbarrow of water had to be carted away and dry dirt was strewn on muddy patches.
With a drizzle still coming down, the umpires ruled the field was playable - if only borderline - and so the first game got underway about 15 minutes late.
After the battle with the elements, the games themselves were an anti-climax. The league-leading Munich club improved its record to 15-2 with the best pitching duo in the league, player-coach Steve Walker and Nick Angstman, dominating the Ingolstadt batters. The best offensive line-up in the league ran up the scores and thereby mercifully shortened both games - played in a virtually non-stop drizzle - by two innings under the 10-run rule.
Caribes' catcher Mateo Gatica swung the biggest bat of the day. In the first game he hit a powerful shot that was a foot short of clearing the tall, left field fence. Instead of a home run, the Texan had to settle for a double, but the two runners on base ahead of him both scored.
In the second game, Gatica then hit a towering home run over the right field fence, for three runs batted in. At this point, the Caribes are no longer talking about if they are going to win the Regionalliga-Southeast title, but rather when. The moment could come in early August. After an away game next week, the Caribes are back at home on July 13th for a doubleheader against the Stuttgart Reds. That fixture also marks the club's summer festival, with music, games and a BBQ starting from 13:00 CET.
The only other local Munich-area baseball team scheduled for action over the weekend was the Haar Disciples junior varsity but their fixture away at Heidenheim got cancelled by something called rain.

Related Stories: